It's out of the stall! TCT Direct Strike Radium Laser Large Format Customizable Selective Laser Melting Equipment LiM-X400A, World First
As a wholly-owned subsidiary of Xin Jinghe, a famous metal additive manufacturing service provider, radium laser has developed a full range of powder spreading, coaxial powder feeding and arc additive processing equipment through independent development in combination with the accumulation of processing service experience of the parent company over the years, and has realized a full range of customizable. At this TCT exhibition, we will officially exhibit LiM-X260A powder spreading equipment and LiM-S0402 laser cladding equipment.LetWe meet "stall number" E5-C11, intended customers can get more exquisite gifts yo!
Let's take a look at the secret of the 400A.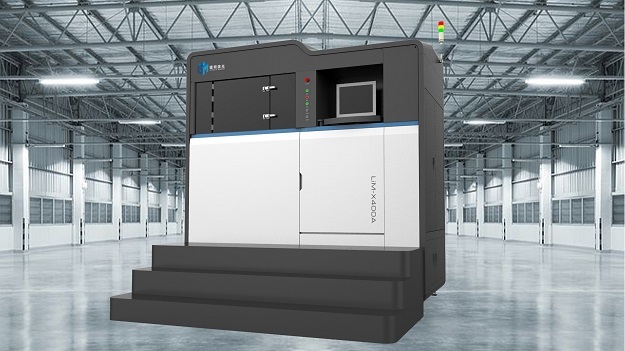 Figure 1. LiM-X400A effect diagram
Flexible, configurable, high-efficiency printing
According to the characteristics of customer needs forming parts, we can flexibly configure for users on the basis of standard model architecture.
Single laser: 400*400*500mm (without substrate, highly customizable)
Dual laser: 400*450*500mm (excluding substrate, width can be customized to 400~500mm, height can be customized to 500mm ~ 1500mm)
Four lasers: 450*450*500mm (excluding substrate, width can be customized to 400~500mm, height can be customized, height: 500mm ~ 1500mm)
Right.High size equipmentInterested customers can also leave contact information on our booth. We will organize everyone to visit our factory in the near future to see our tall equipment on site.
Figure 2. LiM-X400A configurable forming bin, the number of lasers can be selected 1/2/4
Equipment safety guaranteed by the whole process
The LiM-X400A inherits LiM-X260A proven safety design to ensure tightness during printing, and the process is effectively protected by inert gas. At the same time, the gas loss is effectively reduced through precise control in the gas replacement process.
On this basis, considering that larger equipment requires a large amount of metal powder for each forming process, and the amount of powder can even reach "tons", the safety risk associated with operating such a large amount of powder is doubled compared with small and medium-sized equipment. For this purpose, the LiM-X400A equipment uses a well-designed powder handling device and a mobile pick-up device. It can effectively reduce the contact between the operator and the powder and ensure the safety of the personnel. At the exhibition site, our staff will show all the guests our exquisite design.
Figure 3. LiM-X400A supporting movable pickup device
High quality parts for reliability and consistency
As an equipment manufacturer with a service provider background, we deeply understand the concept of quality cost. For this reason, we have selected well-known brands at home and abroad on all the core components of the LiM-X400A to ensure the reliability and consistency of the printing quality of the equipment.
IPG Lasers:Long-term stable output ensures forming quality and consistency.
Scanlab galvanometer:Automatic calibration of temperature drift to ensure scanning accuracy for long hours of work.
THK Track Mechanism:The selection of THK series screw guide rail, which represents high precision in the field of heavy-duty machine tools, is precisely to ensure the Z-axis motion accuracy of large-size heavy-duty equipment and to ensure uniform and stable powder spreading layer thickness.
Materialise软件:Give full play to its powerful support to add functions, open parameters, so that tedious data preparation work becomes handy.
Figure 4. The core components of radium laser selection
Parameter-optimized wind field design improves print quality
The optimized wind field structure makes the impurities such as soot and splash generated in the forming process can be quickly brought into the filtration system by the circulating air path to ensure the internal quality of the formed parts. From the latter case we can clearly see the metallographic picture of the print.
The wind field simulation adopts the strategy of parametric modeling, customization according to demand, and optimization of multiple iterations in a short time to ensure that the dust removal effect of customized equipment is not affected by the change of equipment size.
Figure 5. Wind field design after parameter optimization
Independent development, flexible and controllable
ofPrint control software offers many possibilities
After practical testing, and fully open process parameters package, so that customers can rest assured to deal with a variety of extreme structures.
Large layer thickness improves efficiency, small layer thickness high precision, surface remelting increases brightness, multi-layer contour is smooth, parameter selection is tens of millions, there is always a suitable for you!
The scanning angle along and against the wind is automatically avoided, so that each single channel can obtain excellent forming quality. Strip strategy, optimized overlapping, all processing surfaces are uniform and dense; 67 degrees layer by layer rotation, stress direction is not easy to concentrate. From point to line, from line to surface, from surface to body, there are considerations at every level, and the whole is guaranteed!
After all this talk, bring out something real!
Since the beginning of the successful development of the LiM-X400A, it has started a long-term uninterrupted printing test. At present, the formable materials include titanium alloy, high temperature alloy, aluminum alloy, stainless steel and die steel.
Case one:TC4 thin-walled structure
Case two:GH4169Aeroengine exhaust assembly
As a wholly-owned subsidiary of Refining Group, Radium Laser focuses on providing advanced additive manufacturing equipment for global customers. Its product line has covered selective laser melting series equipment, laser near-net shaping series equipment, laser cladding additive series equipment, laser coaxial wire feeding additive series equipment and arc additive series equipment. With military quality as the service standard, we have accumulated a wide range of customer base in aerospace, shipbuilding, mold, education and scientific research, medical treatment, automobile and many other fields..
There are more exquisite cultural and creative gifts waiting for you to get them!
Metal additive manufacturing equipment provider
Please pay attention to me ~
Permalloy additive manufacturing process plan, radium laser soft magnetic alloy forming process details!
Permalloy refers to an iron-nickel alloy with a nickel content in the range of 30% to 90%. This kind of soft magnetic alloy can effectively control the magnetic properties through appropriate process. It is a typical functional material with high permeability, low coercivity, high saturation magnetic induction, high Curie temperature, good corrosion resistance and good processing performance. Mainly used in alternating magnetic field, widely used in aerospace industry and telecommunications, measurement and control system. Commonly used permalloy 1J50, 1J79, 1J85 and so on. In the field of aerospace industry, permalloy is mainly used to manufacture precision components with high sensitivity, fine size, small size and low high frequency loss.
2023-08-15
---
Gather in Chang 'an, Talk about Additive Material | Radium Laser Appears at 6th IAME Conference
The 6th China (Xi 'an) International 3D Printing Conference and Qin Chuangyuan 3D Printing High-end Forum opened today. Radium Laser was unveiled with LiM-X150A equipment and typical metal 3D printing displays, sharing technological achievements and application cases, discussing the future development direction of additive manufacturing, and going to the digital future together.
2023-08-08
---