Radium laser, ingenuity to create a win-win future.
Recently, the Ministry of Industry and Information Technology and other eight departments jointly "14th Five-Year" Intelligent Manufacturing Development Plan (hereinafter referred to as "Planning"). The Plan clearly lists additive manufacturing as a key core technology, and proposes that China will break through basic technologies such as design simulation and hybrid modeling, and develop and apply advanced processes such as additive manufacturing and ultra-precision machining. The release of this policy signal has further accelerated the market competition in the field of additive manufacturing.
Tianjin Radium Laser Technology Co., Ltd. (hereinafter referred to as: Radium Laser) adhering to"Quality as the root, innovation as the fruit"This clear concept of enterprise development, continuous research and development innovation in large format forming size, with advanced technology, excellent products, fast service response ability and customized production mode to meet the user's opening up a new situation of domestic additive manufacturing market development.
Aiming at "specialized and refined" continuous innovation breakthrough
As the leading domesticMetal Additive ManufacturingTechnology solution provider, Radium Laser has realized a full range of customized independent research and development in powder spreading, coaxial powder feeding and arc additive processing equipment with innovative, flexible professional advantages and continuous improvement of service capabilities. Its technical achievements have been widely used in many fields such as aerospace, mold, automobile manufacturing, medical treatment and education. Even in the face of the severe and complex external environment of 2021 and the ongoing impact of the epidemic, the radium laser still brought an extraordinary year to a successful conclusion with brilliant achievements.
According to Dr. Guan Kaishi, general manager of Radium Laser, China's additive manufacturing industry will develop rapidly in 2021, with the overall output value growth rate of Radium Laser exceeding 50%. Judging from the data analysis, the growth rate of Radium Laser is faster than that of the industry, mainly because the product line is relatively rich, especially the large equipment production line. At the same time, in the past year, as the demand for large-scale equipment in the additive manufacturing market continued to increase, the production line of radium laser large equipment can respond to the rapid changes in the market in a timely manner, which is also one of the important guarantees for the growth of radium laser performance. "We have always focused on the aerospace field, maintaining high product stability and consistency on the basis of pursuing relatively advanced technology, and providing customized solutions for more user groups". Guan Zong further added.
"Innovation is the first driving force to lead the development of enterprises",This sentence is reflected incisively and vividly in the development process of radium laser. With its deep industry accumulation and excellent technical strength in the aerospace field, Radium Laser has been steadily developing and innovating in large-format forming dimensions, continuously expanding the application scenarios of metal 3D printing, and successively introducing self-developed equipment, including laser selective melting (SLM) equipment such as LiM-X150A, LiM-X260 series, LiM-X400 series, LiM-X400H series, LiM-X650 series and LiM-X650H, as well as LiM-S series of coaxial powder feeding equipment, LiM-R series of laser cladding equipment and special industry customized equipment.
It is particularly noteworthy that the LiM-X650H series of equipment successfully developed by Radium Laser in June 2021 has reached the international leading level. The size of the parts printed by the equipment is 650mm × 650mm × 1500mm, especially the printing depth, which has become a higher level in commercially available metal additive manufacturing equipment. In addition, the equipment is equipped with a complete closed-loop powder automatic conveying system. The whole process of part printing does not require manual intervention in the powder loading and unloading and screening process, and is equipped with a part powder cleaning and recycling module, which is more efficient, practical and safer. At present, LiM-X650H series equipment has been well applied in the aerospace field.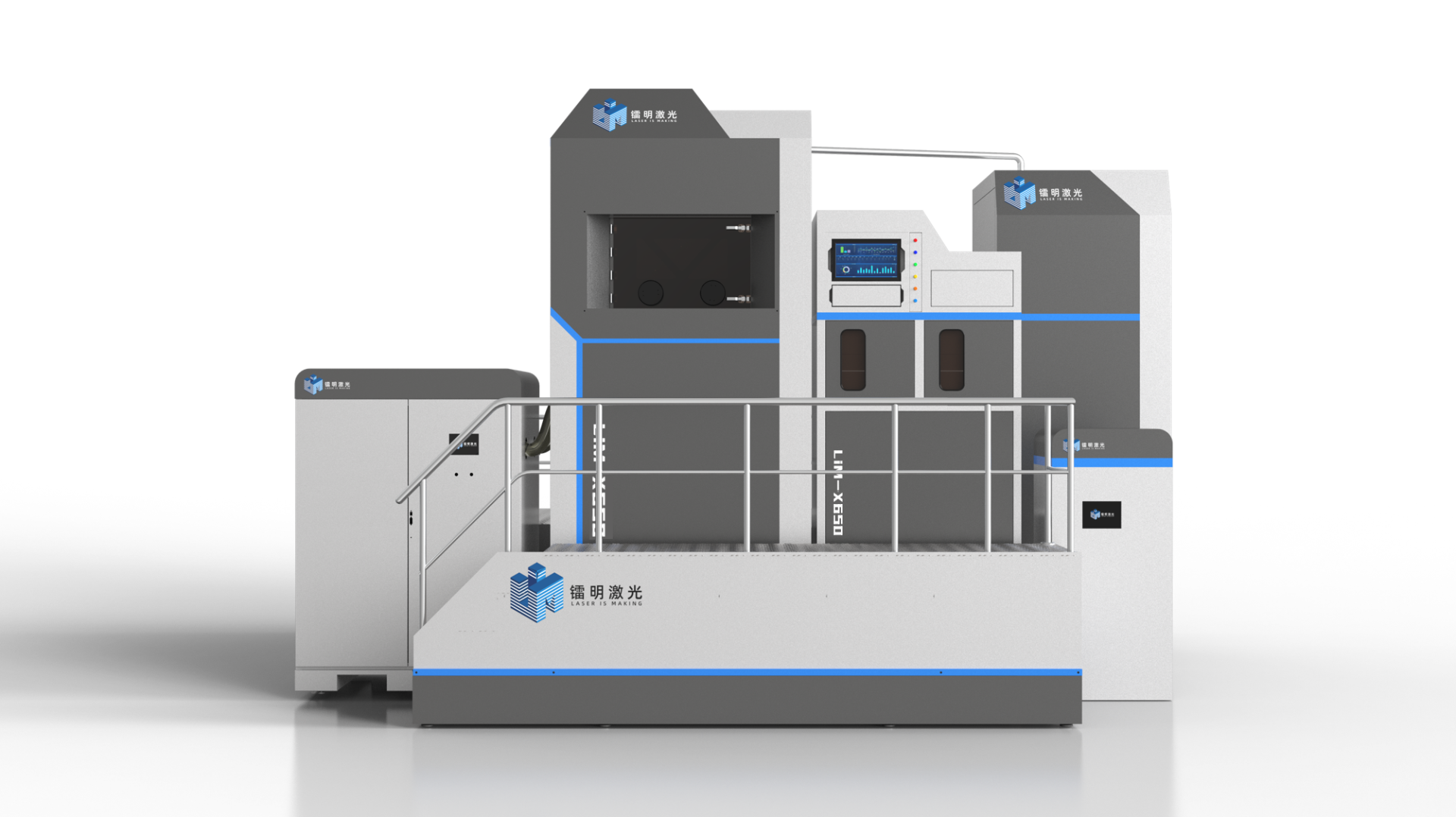 Large format customizable selective laser melting equipment LiM-X650H
Carry forward the "craftsman spirit" and practice intelligent manufacturing
At present, the new development pattern of economic "double cycle" has brought new development opportunities to China's manufacturing industry. As an emerging technology leading the development of manufacturing industry, additive manufacturing integrates traditional processing and intelligent technology, and has been continuously innovated in high-end application fields such as aerospace. Based on more than ten years of rich research and development experience in additive manufacturing technology and laser processing technology, Guan always has unique insights and cognition on the development of additive manufacturing technology in China. He mentioned that my country has been carrying out technical layout of typical 3D printing forming equipment, software and materials since the early 1990 s. The industrialization process started relatively late, but the development speed of the industry is not significantly behind that of foreign countries. The size and application of large-scale equipment manufactured by 3D printing in China are almost the same as those in foreign countries, and some technologies have surpassed foreign countries.
Guan also stressed, "However, it cannot be ignored that the technical level of localization of basic devices for optical lasers, such as additive manufacturing equipment, needs to be urgently improved. Next, we should also seize the new opportunities in the new development stage, develop new products, optimize equipment technology, and avoid the problem of 'stuck neck' through independent research and development of core technologies."
As the helmsman of Radium Laser, Guan always leads Radium people to stick to the field of additive manufacturing with a rigorous and realistic scientific attitude, and pursues excellence in every link of design and production with a dedicated and meticulous craftsman spirit, and has achieved a number of technological breakthroughs. Not long ago, Radium Laser successfully assisted the single-hole-high-fuel-speed solid-liquid engine research project of the Institute of Mechanics of the Chinese Academy of Sciences, providing all-round technical support for the project in the preparation of aluminum-based metal structures and printing out high-quality aluminum-based metal structures. At the same time, the industrial-grade 3D printer SLM LiM-X260 series independently developed by Radium Laser also won the MM "Modern Manufacturing" "Intelligent Solution Award". After many iterations of technological innovation, the new generation of LiM-X260 equipment is equipped with control software independently developed by Radium Laser. The software can customize and optimize its operation interface, functions and core hardware according to user requirements. It can realize pre-printing processing without complicated parameter editing and confirmation operations on the device side, and has excellent use experience.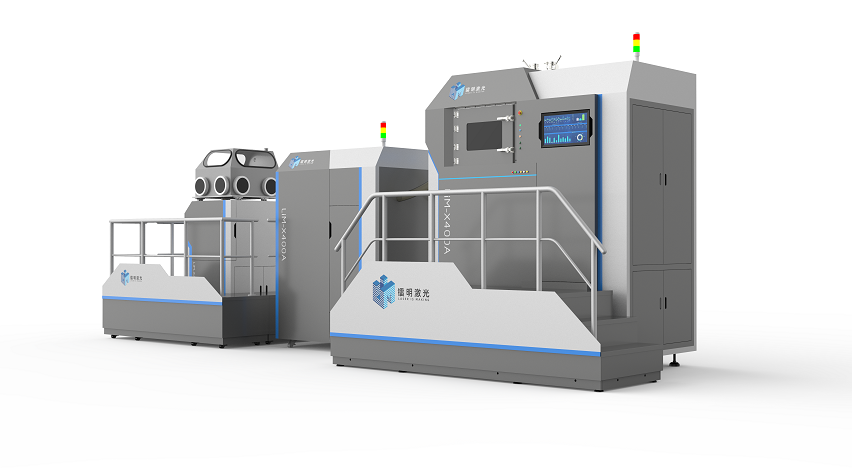 Customizable Selective Laser Melting Equipment LiM-X400A
The integration of the new generation of information technology and manufacturing industry is continuing to deepen, and will become an important starting point for the transformation and upgrading of industrial enterprises. In this regard, Radium Laser has already made sufficient preparations and started work from the following aspects: First, Radium Laser has intelligently transformed the equipment itself to achieve fully automated operation and improve the stability of the equipment; secondly, in simulation In terms of, we will work closely with leading software companies in the industry to optimize some locations that may cause thermal processing defects, and effectively improve the yield of products; third, realize the online monitoring function, specific to each link in the printing process, through the interruption of the link or the feedback of the link, provide a higher yield on the control system, and improve some problems encountered in production and manufacturing. In addition, Mr. Guan also said frankly: "the field of additive manufacturing is not large, and the technological innovation in intelligent manufacturing needs to learn from other industries, such as machine tool enterprises. The deep integration of additive manufacturing and digital technology in the future still needs a long way to go."
Adhering to "openness and inclusiveness" to achieve win-win cooperation
MM "Modern Manufacturing" reporter deeply felt that the manager had a keen insight into the development of additive manufacturing technology and had a clear target plan for the development of radium laser itself. "If an enterprise wants to achieve steady and sustainable development, it must be based on the present and look to the future". Guan Zong said earnestly that the development process of each enterprise is different. Radium laser takes a road of quality first, always ploughing the aerospace field, and developing large-scale equipment with large size and complex structure according to the needs of users in this field. With the continuous expansion of market demand and the increase of subdivision fields, personalized demand is more urgent. For example, the research and development of customized equipment in civil fields such as automobiles and molds will become the main driving point of radium laser in 2022. How to give full play to its own technical advantages, explore the production mode suitable for the operation of these civil fields, and bring more added value to them is the phased goal of radium laser.At the same time, Guan Zong also revealed that the fully automatic feeding and unloading system of raw materials independently developed by Radium Laser will be commercialized in 2023.
In addition, rapid service response capability is also one of the core competitiveness of Radium Laser. The reason why Radium Laser has today's development is inseparable from having an efficient and professional technical service team. Whether it is pre-sales or after-sales service, Radium Laser has achieved standardized services and provides a 24-hour service hotline based on the specific needs of users. In terms of pre-sales service, Radium Laser gives different customers corresponding technical advice and solutions; in terms of after-sales service, Radium Laser provides customers with standardized equipment maintenance and maintenance manuals. In case of special circumstances, Radium Laser's technical service team will communicate with users online in the first time through pictures, videos and other forms, and even go to the user's equipment operation site for further technical guidance. Next, Radium Laser will also set up technical service teams in Xi 'an, Chengdu, Shenyang and other regions, based in Tianjin, and gradually radiate the all-round innovative service model to the whole country.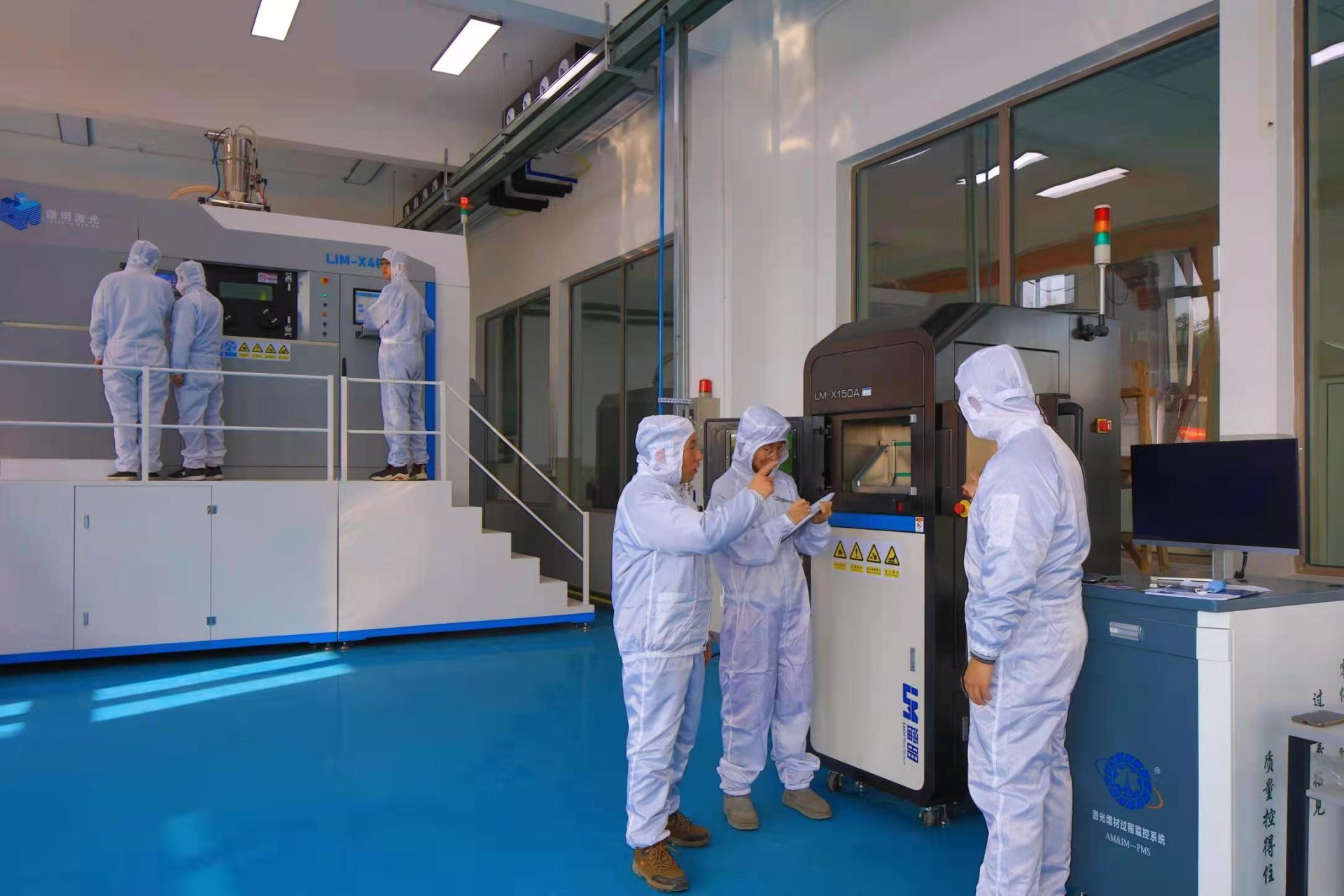 On-site training of technicians
Radium Laser, an enterprise with "innovative genes", also attaches great importance to the reserve of highly skilled personnel. According to Guan Zong, at this stage, there is a shortage of technical personnel in China's additive manufacturing industry. In recent years, Radium Laser has continuously attracted outstanding talents through internal training, establishment of training bases and other institutional cooperation. In the future, it will continue to build a talent echelon to tap more potential advantages of employees, stimulate their enthusiasm and make their work more efficient.
For the future, Guan Zong is full of confidence: "We hope to build a national brand of additive manufacturing on the basis of leading technology in the aerospace field, realize large-scale application in civil fields such as automobiles and moulds, and enable users to produce efficiently. At the same time, adhering to the open and inclusive mentality, we will work together with suppliers, partners, colleges and universities and other industry colleagues to promote the improvement of China's additive manufacturing technology level, shaping a new future for the development of China's high-end manufacturing industry."
Article transferred from MM modern metal processing
Metal Additive Manufacturing
Permalloy additive manufacturing process plan, radium laser soft magnetic alloy forming process details!
Permalloy refers to an iron-nickel alloy with a nickel content in the range of 30% to 90%. This kind of soft magnetic alloy can effectively control the magnetic properties through appropriate process. It is a typical functional material with high permeability, low coercivity, high saturation magnetic induction, high Curie temperature, good corrosion resistance and good processing performance. Mainly used in alternating magnetic field, widely used in aerospace industry and telecommunications, measurement and control system. Commonly used permalloy 1J50, 1J79, 1J85 and so on. In the field of aerospace industry, permalloy is mainly used to manufacture precision components with high sensitivity, fine size, small size and low high frequency loss.
2023-08-15
---
Gather in Chang 'an, Talk about Additive Material | Radium Laser Appears at 6th IAME Conference
The 6th China (Xi 'an) International 3D Printing Conference and Qin Chuangyuan 3D Printing High-end Forum opened today. Radium Laser was unveiled with LiM-X150A equipment and typical metal 3D printing displays, sharing technological achievements and application cases, discussing the future development direction of additive manufacturing, and going to the digital future together.
2023-08-08
---