Radium laser, focusing on a new generation of metal additive manufacturing solutions with scientific and technological innovation
At present, countries around the world have focused on additive manufacturing (also known as "3D printing") as a new growth point for future industrial development. Nowadays, the application value of additive manufacturing technology in aerospace, medical equipment, energy, rail transit and automobile is gradually being released. In recent years, the pace of industrialization of additive manufacturing in China has been significantly accelerated, and additive manufacturing technology is integrating with information network technology and new material technology, promoting the transformation of traditional industries to intelligent and efficient direction. As a national-level specialized and special new "little giant" enterprise, Xin Jinghe Laser Technology Development (Beijing) Co., Ltd. and its subsidiary, Tianjin Radium Laser Technology Co., Ltd., continue to deepen its efforts in additive manufacturing, continue to strengthen scientific and technological innovation and market development, and have achieved remarkable results.
In recent years, my country has continuously introduced a number of positive measures and related standards in the field of additive manufacturing to promote the continuous development of the additive manufacturing industry. In November 2020, the National Standardization Administration issued Announcement No. 26 of 2020, officially releasing eight national standards for additive manufacturing. Among them, the National Additive Manufacturing Product Quality Supervision and Inspection Center led the development of GB/T 39251-2020 "Additive Manufacturing Metal Powder Performance Characterization Method" and GB/T 39254-2020 "Additive Manufacturing Metal Parts Mechanical Performance Evaluation General Rules", A total of 4 standards, including GB/T 39252-2020 "Specification for Powder Bed Melting Process for Additive Manufacturing of Metal Materials" and GB/T 39253-2020 "Specification for Directional Energy Deposition Process for Additive Manufacturing of Metal Materials", have been released.In terms of industrial policy, it is particularly worth mentioning the National Additive Manufacturing Industry Development Promotion Plan (2015-2016). Under the guidance and support of relevant policies and standards, my country's additive manufacturing industry has continuously made new achievements in key technologies. Breakthroughs, its application fields are also expanding, and the scale of the industry continues to grow.
On the whole, China's additive manufacturing industry presents a "small, scattered and weak" state. Although there are hundreds of domestic enterprises engaged in the research and development of additive manufacturing technology and equipment production,The number of large-scale and strong leading enterprises is relatively small, and "unicorn" enterprises are still rare.
On May 17, 2022, the Ministry of Industry and Information Technology announced the list of the third batch of state-level specialized and special new "little giant" enterprises supported by the proposal. Xin Jinghe Laser Technology Development (Beijing) Co., Ltd. (hereinafter referred to as "Xin Jinghe"), which has been deeply engaged in the field of additive manufacturing for many years, was successfully selected.
Provide customers with metal additive manufacturing integrated solutions
As a company focused onMetal Additive ManufacturingAfter more than 10 years of rapid development, Xin Jinghe has now formed Xin Jinghe as its headquarters and research and development management center, Tianjin Radium Laser Technology Co., Ltd. and Anhui Radium Laser Technology Co., Ltd. as its 3D printing equipment manufacturing bases, and Xianxin Jinghe Intelligent Manufacturing Co., Ltd. as its arc additive manufacturing base, take Shenyang Jinghe CNC Technology Development Co., Ltd. and Weifang Xin Jinghe Intelligent Equipment Co., Ltd. as the new industrial development pattern of 3D printing service and machining base.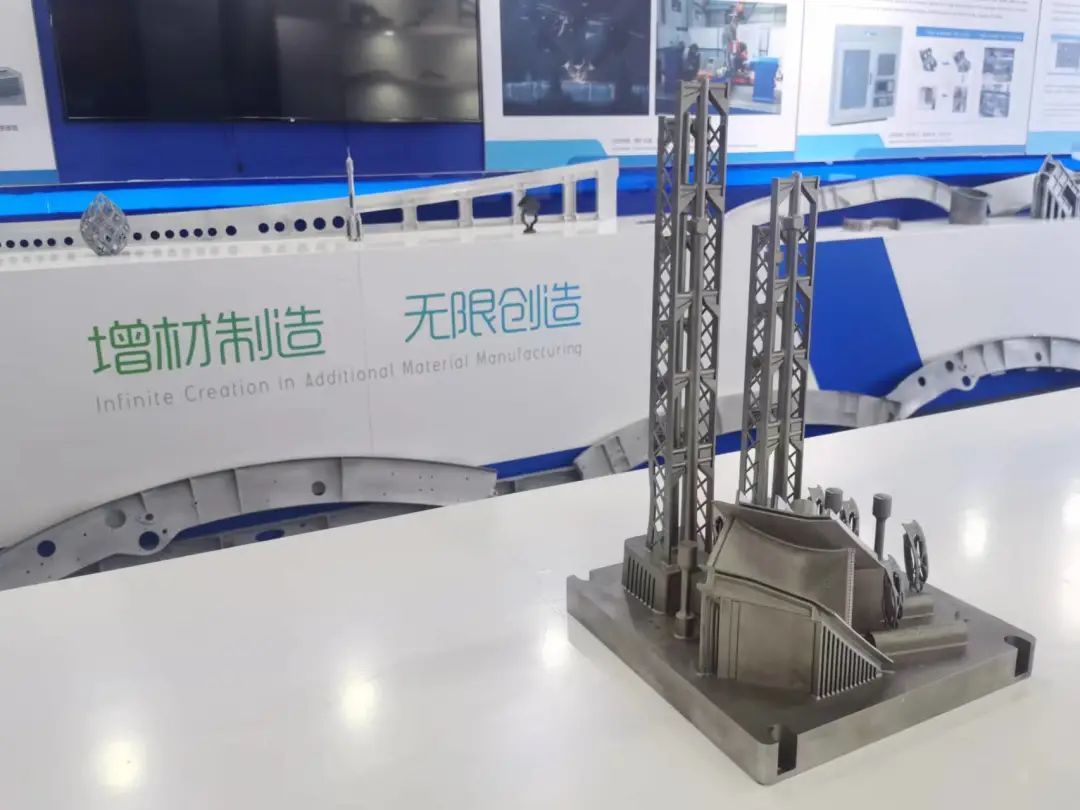 Xin Jinghe and Radium Laser focus on metal additive manufacturing and continuously improve their capabilities.
Li Guangsheng, founder and general manager of Xin Jinghe, said that Xin Jinghe is committed to providing integrated solutions for metal additive manufacturing for customers in the high-end manufacturing field. Its main business areas involve customized manufacturing of complex metal components, raw material preparation, equipment research and development and manufacturing, software customization and development, technical consultation and services, etc,It is currently the only one-stop solution provider with design optimization, process research and development, additive manufacturing, machining, sheet metal welding, assembly, inspection and testing capabilities in the whole industry.The company has undertaken a large number of research tasks in the fields of aviation, aerospace, aviation, shipbuilding, energy and medical treatment, and has achieved mass installation applications.
Speaking of future development plans, Li Guangsheng said,It is expected that in the next 3 to 5 years, Xin Jinghe will form a considerable scale of mass production of metal additive manufacturing equipment in the field of aerospace applications,In order to meet customers' more and higher requirements for services and equipment.He gave an example: Five years ago, equipment with a size of 400mm × 400mm could meet the needs of most customers. Today, many customers have put forward new requirements. The equipment size is 800mm × 800mm, and even higher requirements such as 1500mm × 1500mm may be put forward in the next step. Close communication with high-end customers is conducive to Xin Jinghe's continuous iteration in the research and development of metal additive manufacturing equipment, further improving the stability, reliability and efficiency of the equipment, and further reducing the cost, so that customers can "use it well" and "use it affordable". At the same time, Xin Jinghe will also export new technologies and new equipment to other typical application fields, and further expand overseas markets such as Germany and Russia. Through years of unremitting efforts in technology research and development and equipment manufacturing, Xin Jinghe has been on a par with the international advanced level or even in a leading position in some aspects.
"In the metal manufacturing industry, additive manufacturing, subtractive manufacturing and equivalent manufacturing will be divided into three parts in the future. Xin Jinghe hopes to play a leading role in the field of metal additive manufacturing."Li Guangsheng said.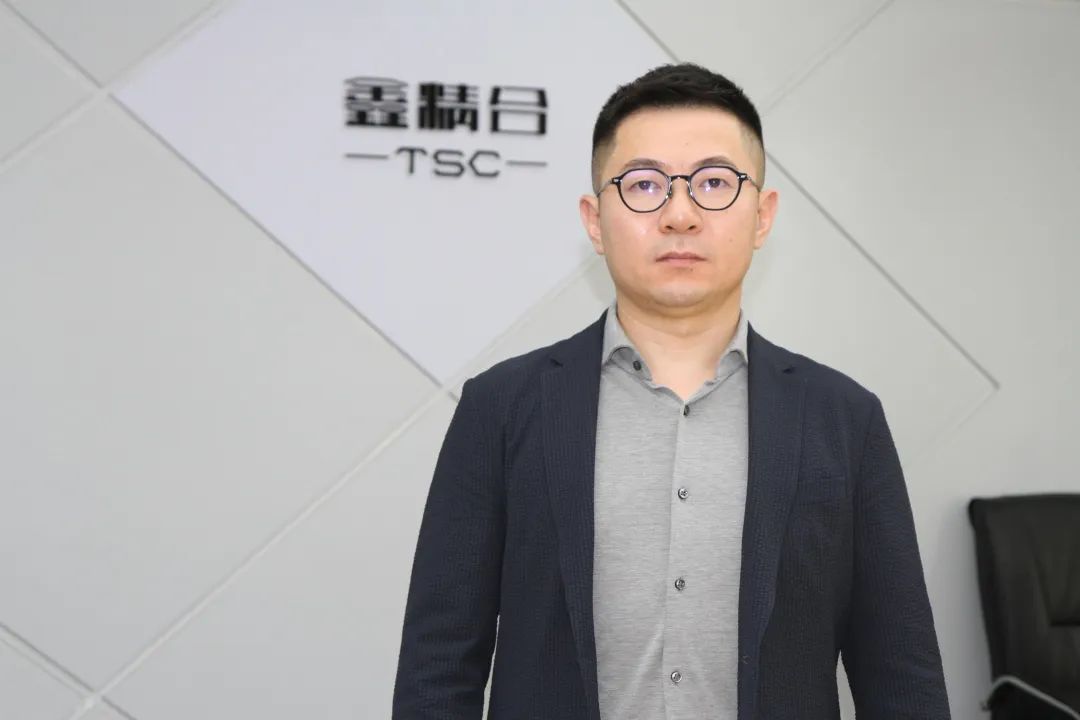 Mr. Li Guangsheng, Founder and General Manager of Xin Jinghe
"With the blessing of many favorable policies, after years of efforts, China's additive manufacturing industry has entered a new stage of application and promotion from the cultivation period. Additive manufacturing technology has been applied on a large scale in aviation, aerospace, automobile manufacturing, energy, mold, medical and shipbuilding and other fields". Li Yulin, deputy general manager of Xin Jinghe sales, said,"It is precisely based on its deep technological accumulation in the aerospace field that Xin Jinghe has realized the coordinated development of four major business sectors, namely, metal additive manufacturing services, research and development and sales of additive manufacturing equipment, numerical control processing and sheet metal welding processing."According to her, next, Xin Jinghe will continue to adhere to the enterprise concept of "lean co-creation of the future", adhere to quality first, technological innovation, deepen the aerospace field, and constantly expand new applications in the industry. bring higher quality product solutions and more professional and perfect services to more users.
Insist on innovation, continue to cultivate in equipment research and development
As one of the subsidiaries of Xin Jinghe, Tianjin Radium Laser Technology Co., Ltd. (hereinafter referred to as "Radium Laser") is committed to providing customers with advanced additive manufacturing equipment, supporting auxiliary equipment and 3D printing services. It is China's leading metal Additive manufacturing overall solution provider.
According to the introduction of Dr. Guan Kai, research and development director of Xin Refining Equipment and general manager of Radium Laser, Radium Laser has independently developed LiM-X150A, LiM-X260 series, LiM-X400 series, LiM-X650 series, LiM-X800 series and LiM-X400H, LiM-X650H and other selective laser melting (SLM) equipment, LiM-S series coaxial powder feeding equipment, LiM-R series laser cladding equipment and special industry customization equipment, etc, its additive manufacturing equipment and research results have been widely used in many fields, such as aerospace, energy and power, rail transit, automobile manufacturing, mold, medical treatment and education.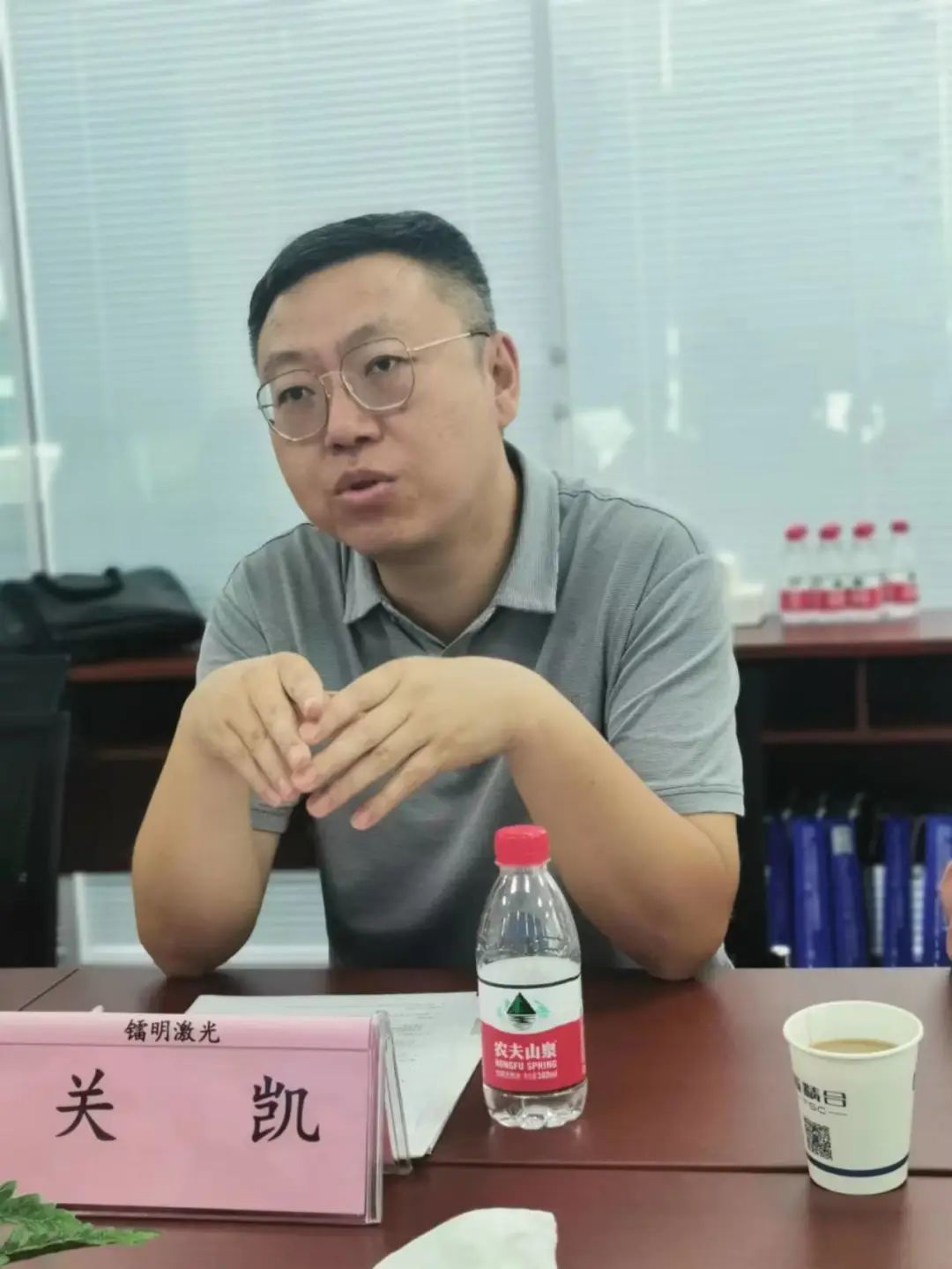 Xin Jinghe Equipment R & D Director and General Manager of Radium Laser Guan Kaishi
During his visit to the Radium Laser production workshop, Dr. Guan Kai introduced the LiM-X150A series, LiM-X260 series, LiM-X400 series, LiM-X650 series and LiM-X800 series of selective laser melting equipment and LiM-R series of laser cladding equipment independently developed by Radium Laser. He highlighted one of the X Series's flagship products--Customizable Selective Laser Melting Equipment LiM-X800.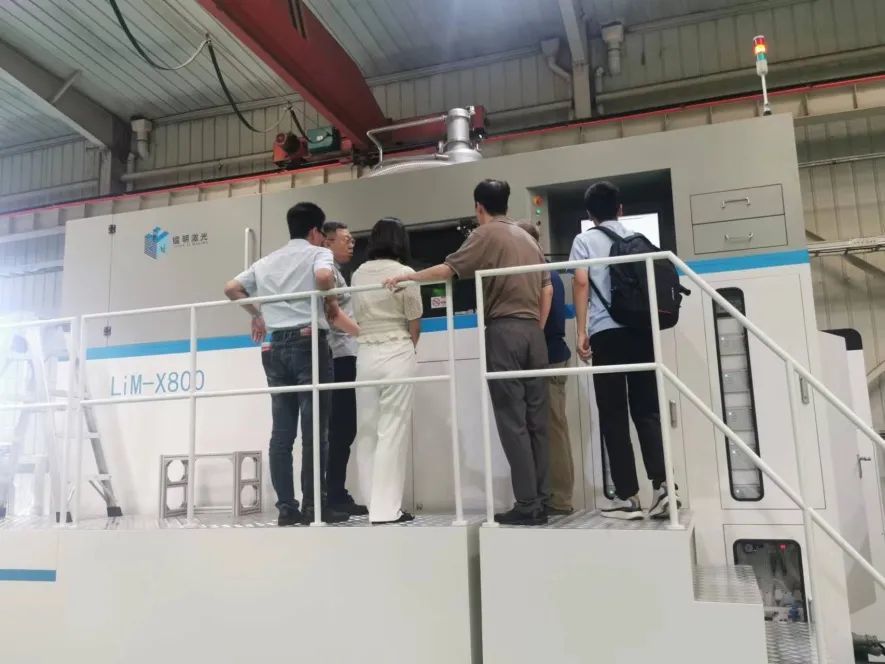 Dr. Guan Kai details the innovation and application of LiM-X800 equipment.
According to Dr. Guan Kai, LiM-X800 equipment faced many difficulties and challenges at the beginning of research and development, including multi-laser high-precision splicing control, multi-laser scanning light blocking, and more ash on the suction side caused by large-format wind field speed difference. In view of these problems, the professional R & D team of Radium laser has successfully developed LiM-X800 series equipment after a large number of experimental verification and the research of a number of patented new technologies. Generally speaking, its innovation is mainly reflected in higher cleaning efficiency, smaller footprint, more convenient powder cleaning and higher degree of automation,To a certain extent, it can replace some precision casting, especially suitable for aerospace manufacturing field.
---
Specifically, the main advantages of the LiM-X800 series of devices include:
Large format, small figure
Although the model is X800The maximum printing size of the Z axis can reach 1000mm, while the size of the equipment is only 5.5m × 2m × 3.7m, the height of the equipment is reduced and dynamic balance is realized by double electric and double drive, the design of the forming cylinder powder discharge and parts taking method effectively reduces the occupied area, double the space compression of the traditional Z axis, and the height of the equipment is reduced by 1/3; Canceling the design of the picking compartment reduces the occupied area of the equipment by 1/3.
Multi-laser, high efficiency
Standard six laser, reserved 4 sets of optical system interface, according to the demand can be equipped with eight laser and ten laser, the maximum forming efficiency can reach 250cm ³/h, and the quality mode of 4/6 laser and the efficiency mode of 8/10 laser can be selected according to the requirements. Multi-laser zoning and high-efficiency wind field technology can effectively ensure the forming quality.
Automatic high efficiency powder circulation system
After adding powder, the equipment can automatically screen and dry the powder to reach the use state. In the printing process, the system efficiently and automatically completes the three processes of powder overflow recovery, powder overflow screening and powder supply, working independently without affecting the printing of the forming compartment. The powder collection and transportation efficiency is above 10L/min.
After the printing is completed, the cylinder can be moved by one key. According to the characteristics of the parts, the cleaning methods such as potential energy powder discharge, high energy powder suction and strong powder blowing can be selected to directly complete the parts taking in the part taking compartment to realize the isolation of human powder. The forming cylinder is equipped with a powder discharge port to complete the powder discharge, and then the forming cylinder door is opened to separate the piston and the substrate, complete the low-level intelligent launch of the part.
Solve the problem of wind direction adjustment and particle residue
Through the high-efficiency barrier of the middle layer of the bottom double-speed tuyere, the wind direction required for light and heavy powder is adjusted, and the pollution problem of the top light path and the residual problem of large particles on the suction side are solved.
Modular, highly integrated
Equipped with permanent filter, the service life of the filter element exceeds 100000 hours, the filter element does not need to be replaced, and the printing process is not interrupted; Online scraper replacement technology, scraper replacement without stopping, sustainability guarantee equipment stable formation; Equipped with a high-stability valve-type powder feeder and a self-developed powder cleaner, powder cleaning is efficient and convenient.
---
"In the face of the current phenomenon of serious homogenization of additive manufacturing products, Radium Laser insists on taking the needs of users as the starting point and carrying out technological innovation on the premise of ensuring printing quality; at the same time, Radium Laser will continue to strengthen its technical reserve to help the large-scale production of China's additive manufacturing industry in the future.""Radium Laser closely focuses on the development trend of additive manufacturing industry and innovation, consistently adheres to high-quality manufacturing and continuously carries out industrial technology innovation," said Dr. Guan."
According to Dr. Guan Kai, at present, Radium Laser has a technical team of more than 50 people, with more than 50% of them having a graduate degree or above, mostly from key universities such as Tsinghua University, Chinese Academy of Sciences, Huazhong University of Science and Technology, and Northwestern Polytechnical University. More than 50% of the R & D personnel have more than 10 years of product research and development experience.In recent years, Radium Laser has continuously increased its investment in technology research and development, focusing on the development of large-size equipment. The LiM-X650H equipment introduced in 2021 has a printing depth of 1600mm, becoming one of the highest levels in commercially available metal additive manufacturing equipment. The LiM-X800 series of equipment released this time has a printing width of 800mm × 800mm. These two equipment basically meet most of the current market demand for metal 3D printing parts.
"As market demand continues to expand and segments increase, the individual needs of users are also increasing. In the future, Radium Laser will continue to work intensively on equipment research and development to provide users with more quality solutions and become the most trusted supplier of total solutions for additive manufacturing." Dr. Guan Kai said.
This article is transferred from "China Machinery Magazine" Chen Yongguang
Metal Additive Manufacturing
Permalloy additive manufacturing process plan, radium laser soft magnetic alloy forming process details!
Permalloy refers to an iron-nickel alloy with a nickel content in the range of 30% to 90%. This kind of soft magnetic alloy can effectively control the magnetic properties through appropriate process. It is a typical functional material with high permeability, low coercivity, high saturation magnetic induction, high Curie temperature, good corrosion resistance and good processing performance. Mainly used in alternating magnetic field, widely used in aerospace industry and telecommunications, measurement and control system. Commonly used permalloy 1J50, 1J79, 1J85 and so on. In the field of aerospace industry, permalloy is mainly used to manufacture precision components with high sensitivity, fine size, small size and low high frequency loss.
2023-08-15
---
Gather in Chang 'an, Talk about Additive Material | Radium Laser Appears at 6th IAME Conference
The 6th China (Xi 'an) International 3D Printing Conference and Qin Chuangyuan 3D Printing High-end Forum opened today. Radium Laser was unveiled with LiM-X150A equipment and typical metal 3D printing displays, sharing technological achievements and application cases, discussing the future development direction of additive manufacturing, and going to the digital future together.
2023-08-08
---