2022, radium bright laser shining moment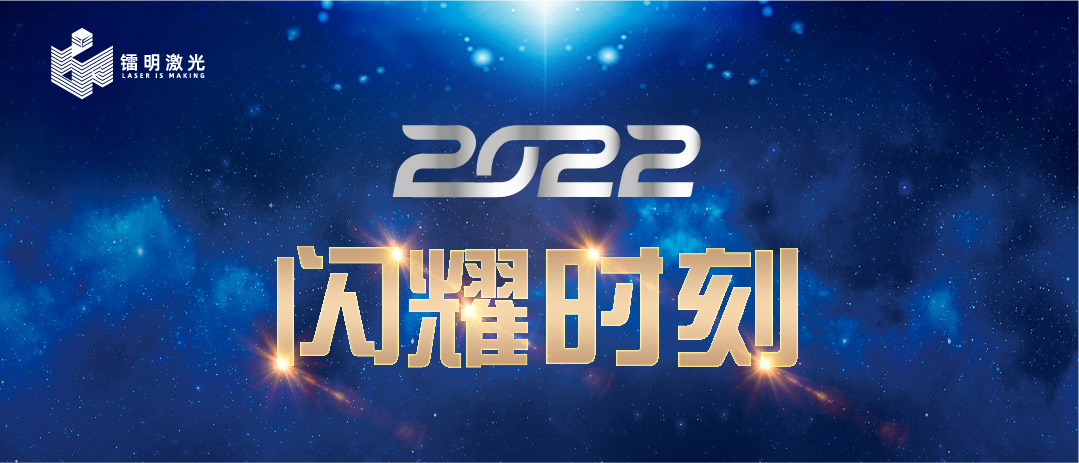 Time sequence replacement, time flies
Once again standing at the end of the year intersection
Looking back 2022
The nation faces many grim moments.
But we're still going light by light.
Open the annual calendar
Review the traces of radium laser in 2022
Remember the good moments of the year.
---
Craftsmanship, innovation to promote
11/3 Li M-X800 equipment new product release
The main features of the 3D metal printing equipment include ten laser multi-mode/new powder pick-up method/powder full-automatic high-efficiency cycle/large-format small footprint, etc., independent research and development to lead the industrialization of additive manufacturing "big" trend.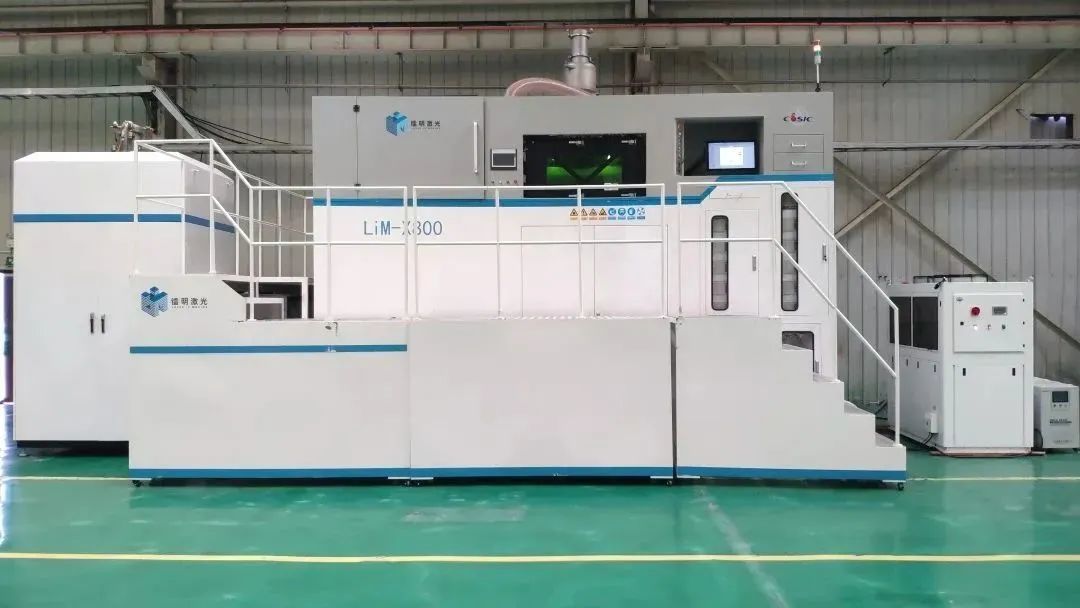 LiM-X800 equipment
Except for new device releases
For assembly manufacturing, process production, etc.
Also in the continuous optimization and upgrading
Launched a number of technical achievements, leading the development of additive manufacturing industry
Assembly Manufacturing Aspects
Modular design of equipment, construction of BOM and assembly relationship, design of standard interfaces between modules, platform design, to meet customer customization needs, to achieve cost and quality control, while improving equipment reliability and reducing maintenance costs.
Vigorously promote lean production, the establishment of lean production organization; the use of more digital, intelligent, automated and other means.
By adjusting the process parameters LiM-X260A by the self-developed equipment, a large area (150mm * 150mm) limit size structural part of aluminum alloy was successfully printed. The rod diameter of the formed part was 0.2mm, and the rod diameter dimensional accuracy reached ± 0.025mm.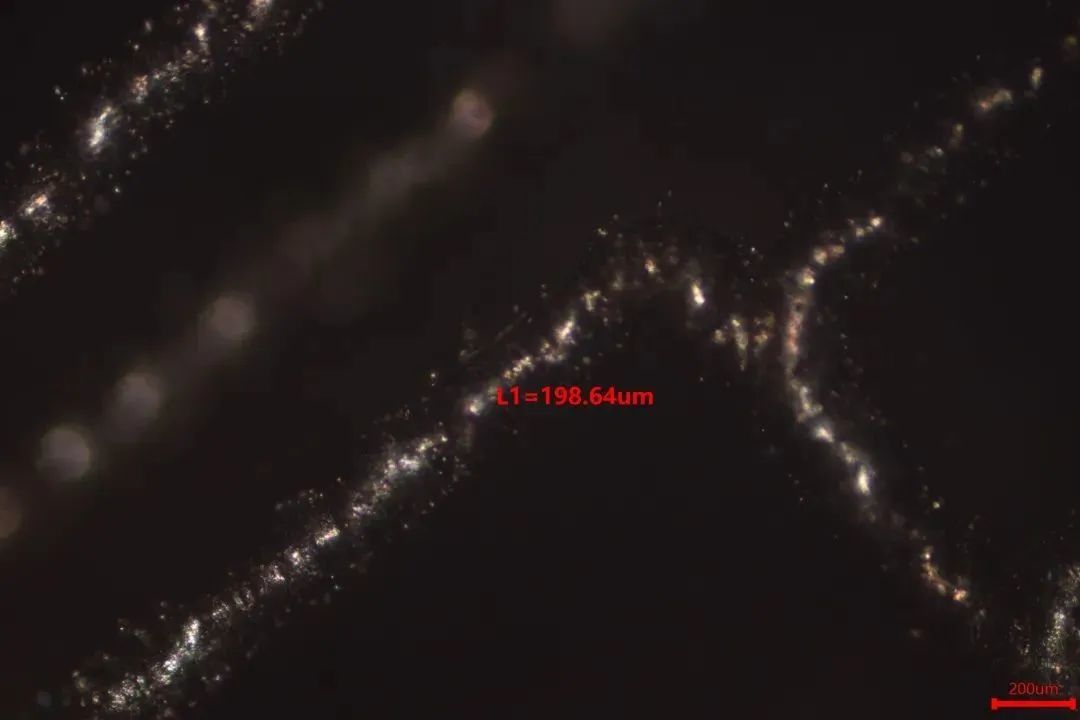 Partial Rod Diameter at 50 Magnification
Through the adjustment of the equipment process parameters, the research and development team successfully realized the printing of 0.09mm wall thickness superalloy (GH4169) bearing washers in the LiM-X150A series of equipment, and SLM forming with extremely thin structure broke through the 100μm mark.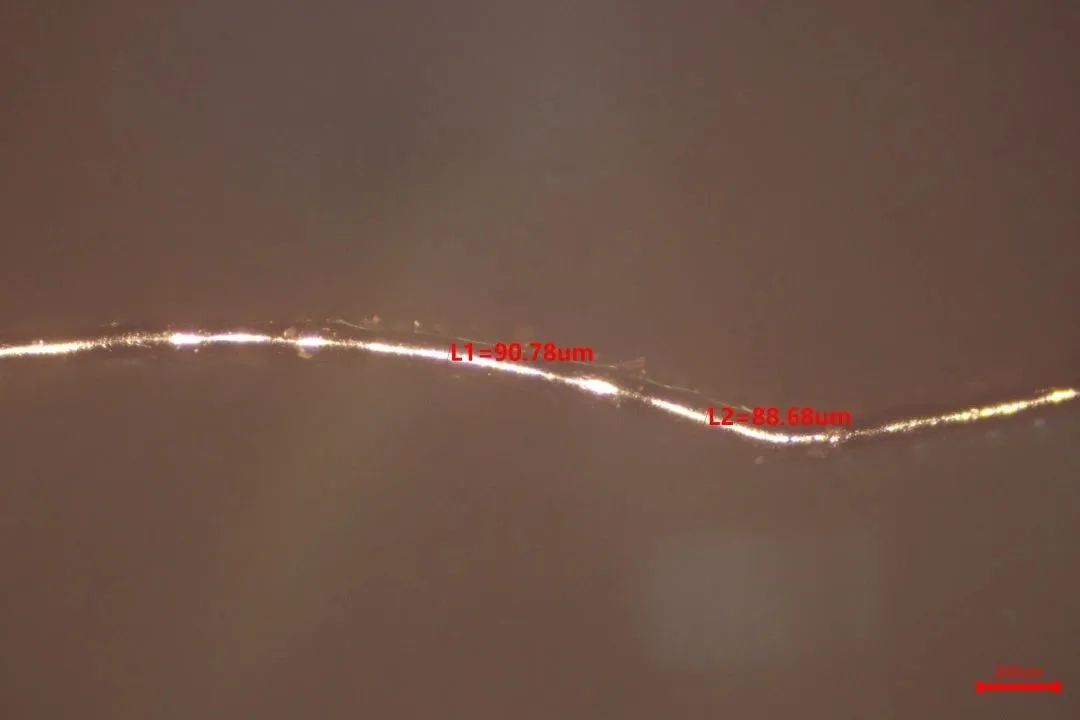 Photo of 0.09 mmGH4169, bearing gasket
In terms of forming angle, through the continuous experiment and iteration of process parameters, the 20 ° forming of typical aluminum alloy parts is realized by using LiM-X260A equipment, which greatly improves the forming ability of SLM.
Thick planting advantage, stable and far-reaching
Won the first batch of Tianjin intelligent manufacturing special projects in 2022
The project of "large-scale application of multi-series complete sets of equipment for metal additive manufacturing" was selected as the first batch of special fund projects for intelligent manufacturing in Tianjin in 2022.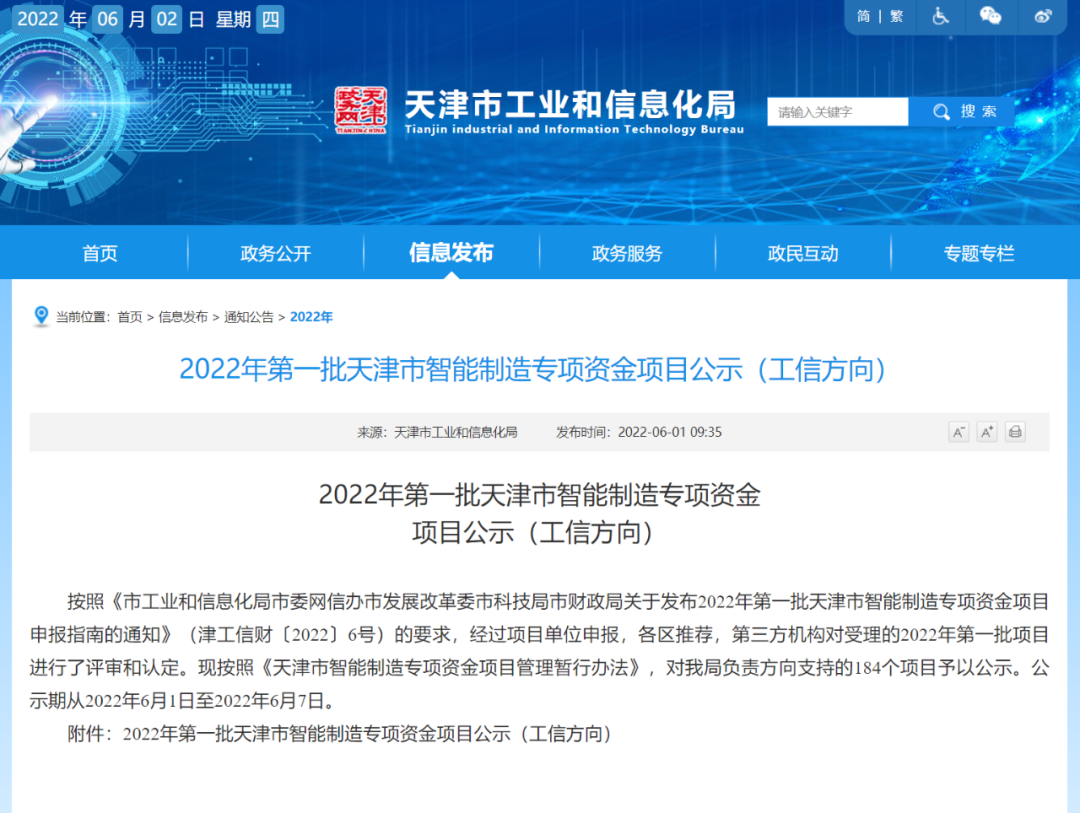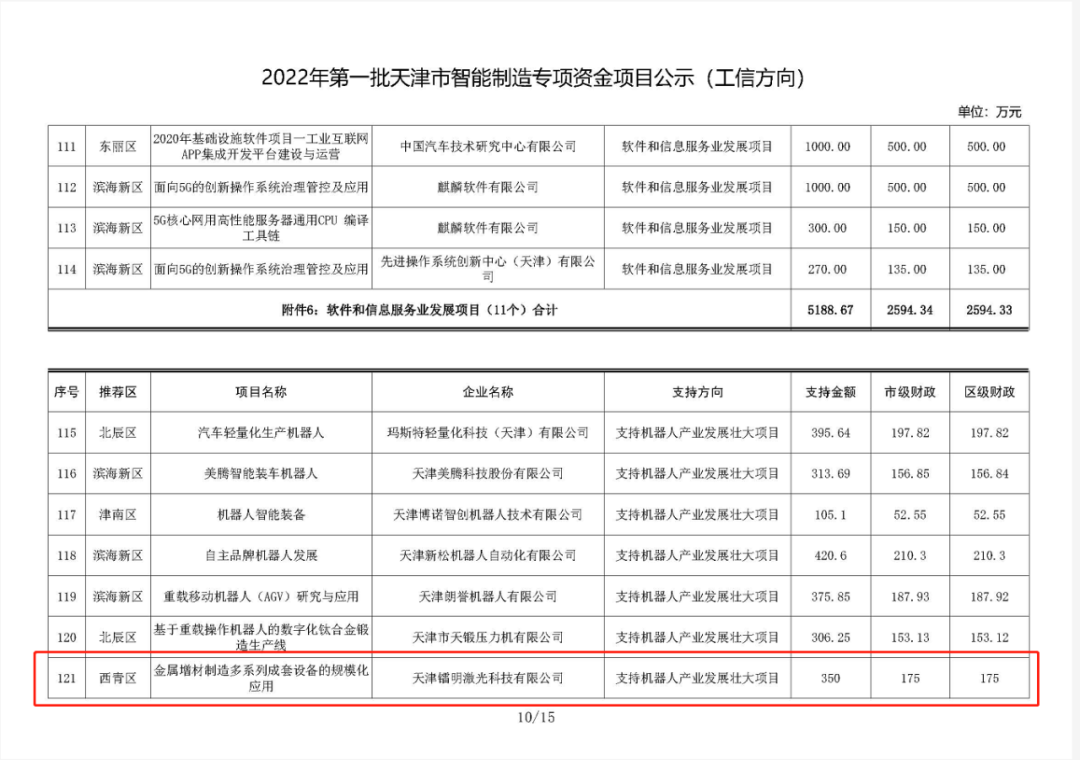 Screenshot of Project Publicity
The declared project was selected into the list of the first batch of typical application scenarios of additive manufacturing.
In the application scenario of "integrated manufacturing of complex structure products", it provides solutions for Hubei Sanjiang Aerospace Hongyang Electromechanical Co., Ltd. in the project of "integrated manufacturing of key components of aerospace engines", and in the application scenario of "mass production of parts", it provides solutions for China Aeroengine Group Co., Ltd. in the project of "mass production of key components of aviation engines", All of them were selected into the list of the first batch of typical application scenarios of additive manufacturing.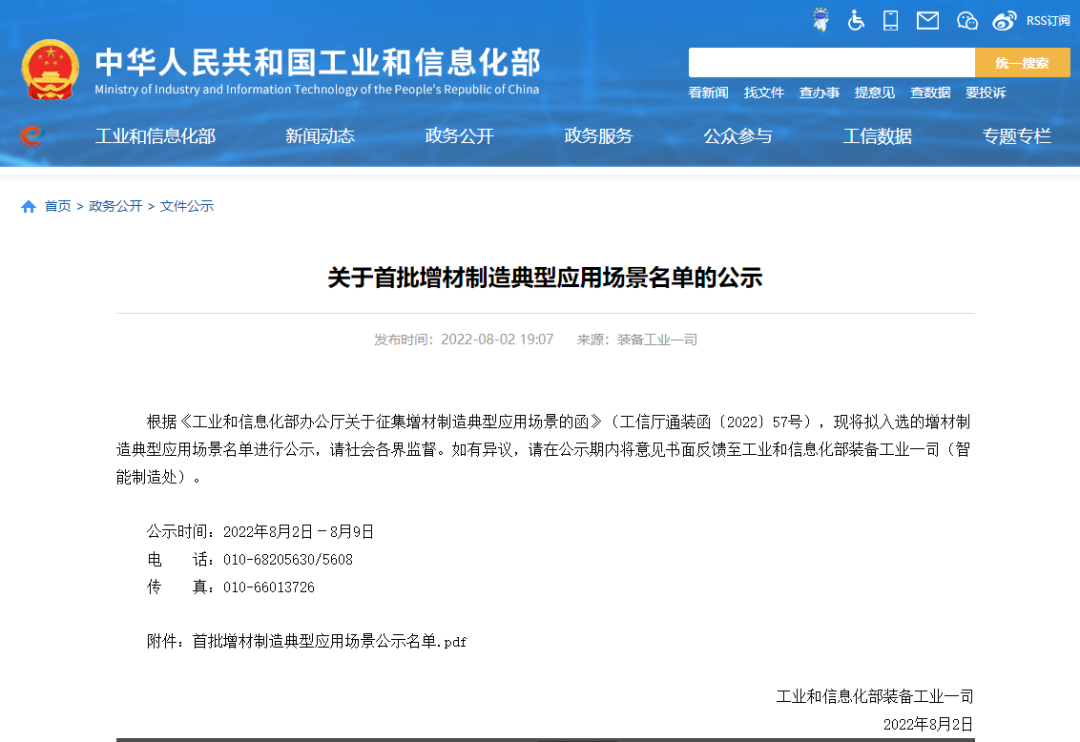 Screenshot of Ministry of Industry and Information Technology Publicity
Tianjin Gazelle Enterprise Selected in 2022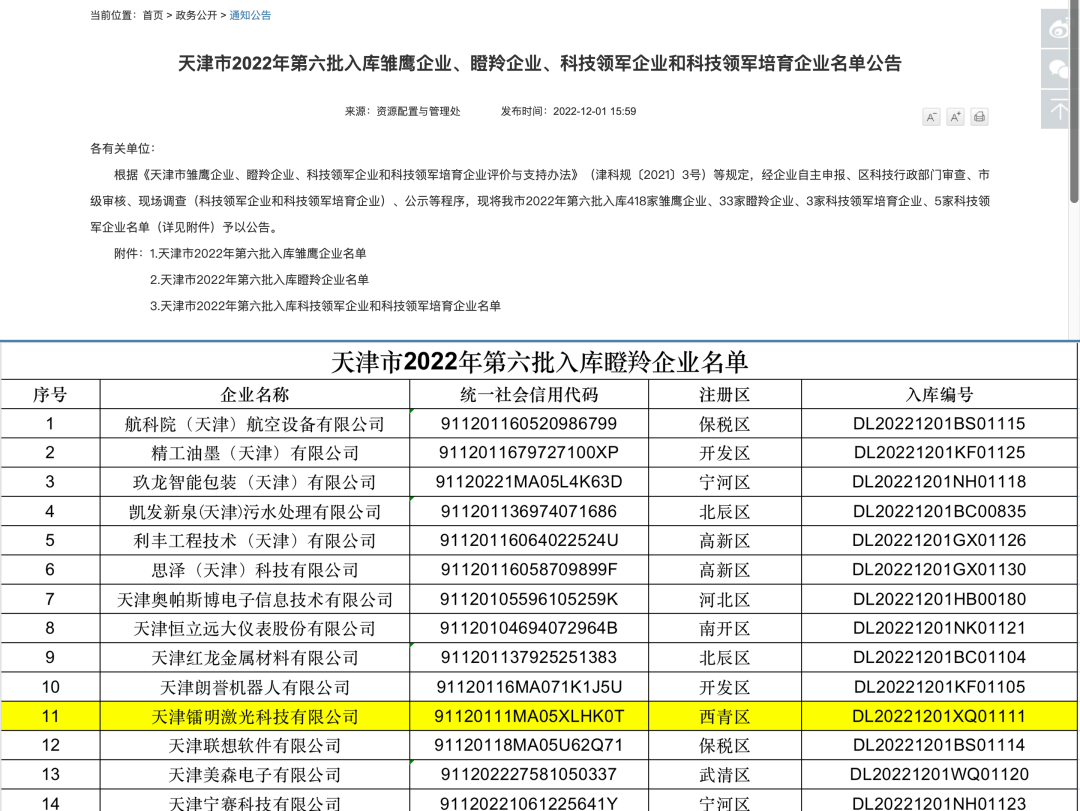 Announcement Screenshot
Won the second prize of Tianjin science and technology progress
The project "Research and Application of Key Technologies for Safety Performance of Lightweight Vehicles under Full Scene Conditions" won the second prize of Tianjin Science and Technology Progress Award.
Ringier Technology Innovation Award, China Metal Processing Innovation Product Award
LiM-X650H equipment won the 2022 metal processing industry-Jung technology innovation award, 2022 China metal processing innovation product award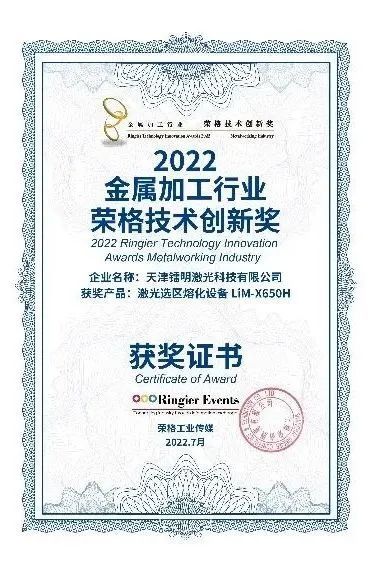 Award Certificate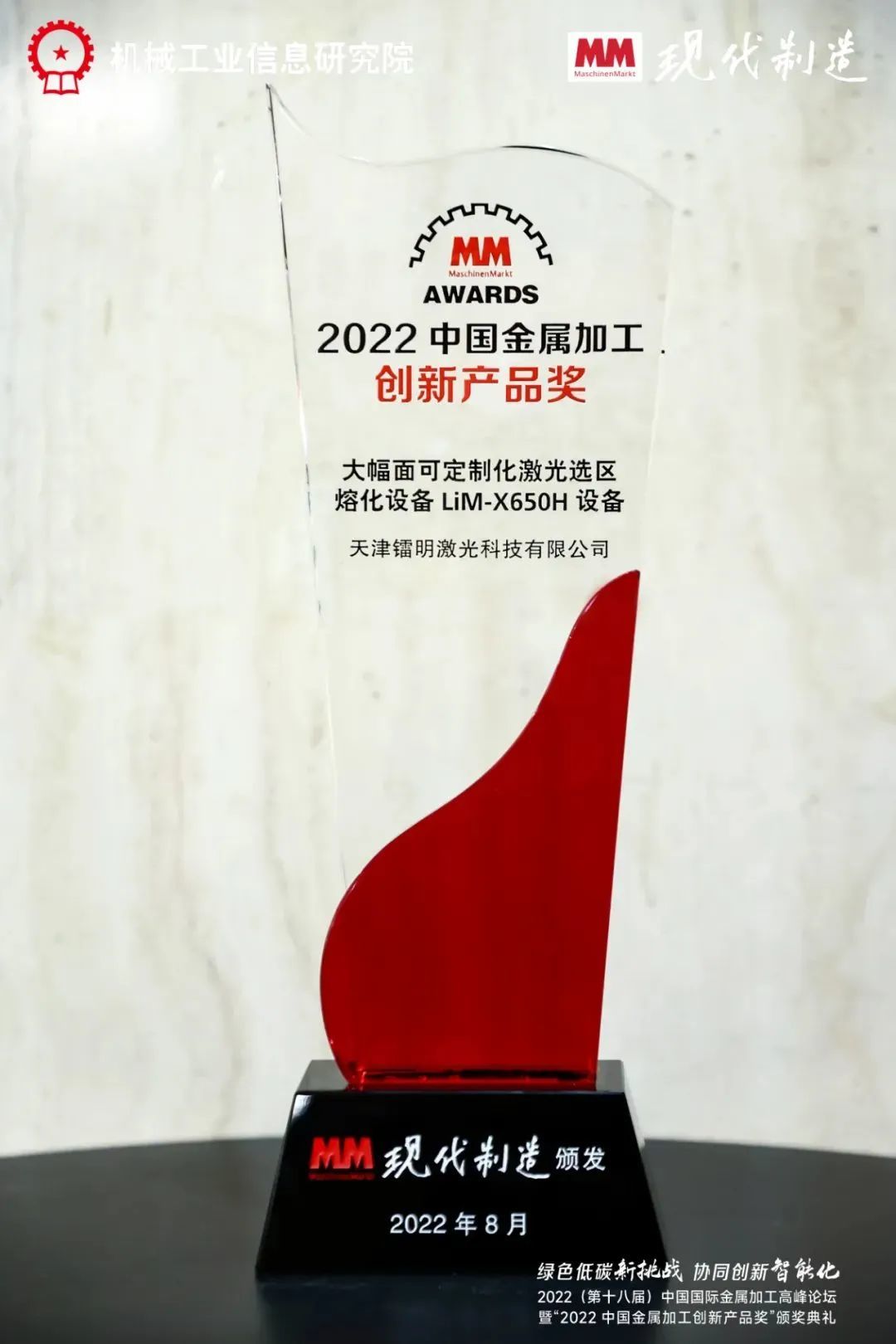 Award-winning Trophy
Enterprising and pioneering, bright spots
In 2022, radium laser will participate
8 offline exhibition forums
Always with a high-spirited attitude
Welcome each new journey
Bring LiM-X260 series of equipment and nearly 80 exhibits to the TCT ASIA 2022 exhibition.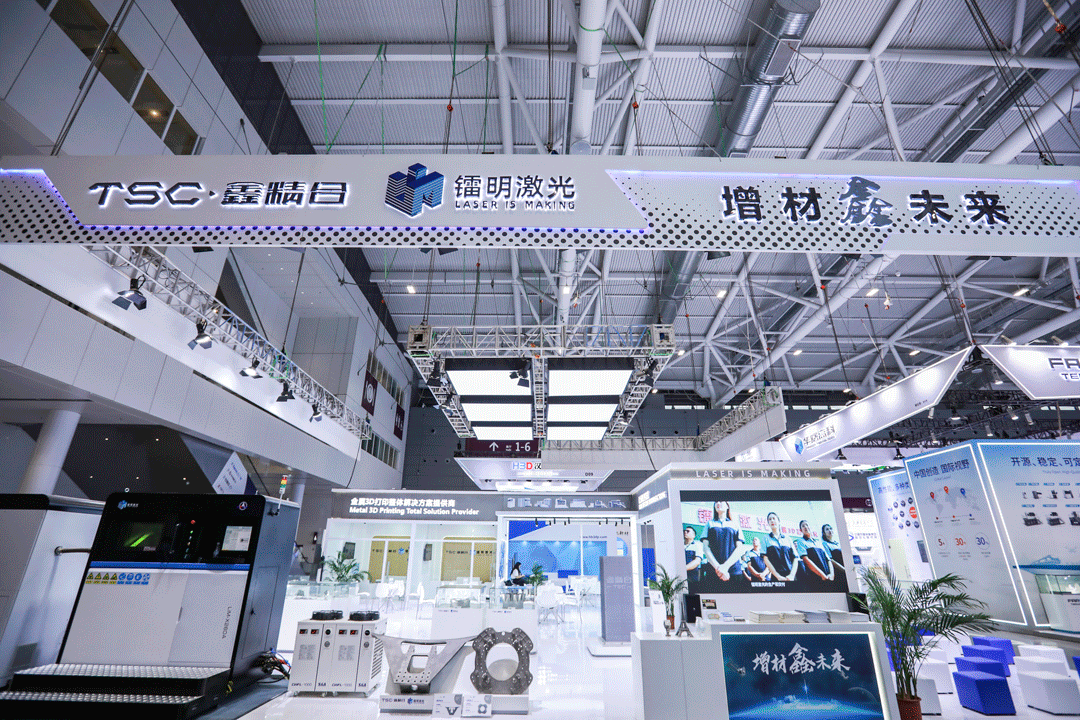 8/23、11/8、11/9、11/21-11/23
2022 (12th) Civil Aircraft Industry International Forum, 2022 18th China International Metal Processing Summit Forum, 2022 Additive Manufacturing and Laser Processing Technology Forum, 2022 (5th) Aerospace, Aviation and Navigation Industry Development Forum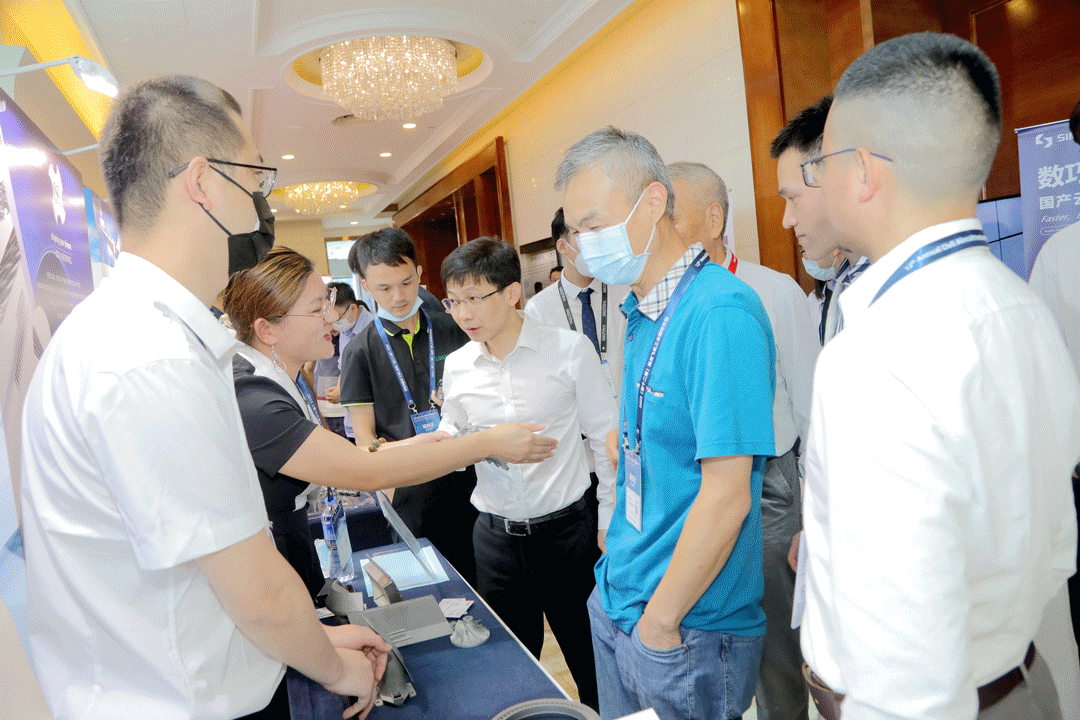 11/15-11/18 2022 Germany Formnext 3D Printing Exhibition
LiM-X260 equipment shines at the German Formnext 3D printing exhibition in 2022 to show customers around the world from China.Metal 3D printingThe overall solution.
11/24 The 6th China Air and Space Power Joint Conference
The 6th China Space Power Joint Conference was held in Suzhou, and the Space Technology Promotion Exhibition opened at the same time. Dozens of products related to the space power industry were exhibited, which attracted much attention.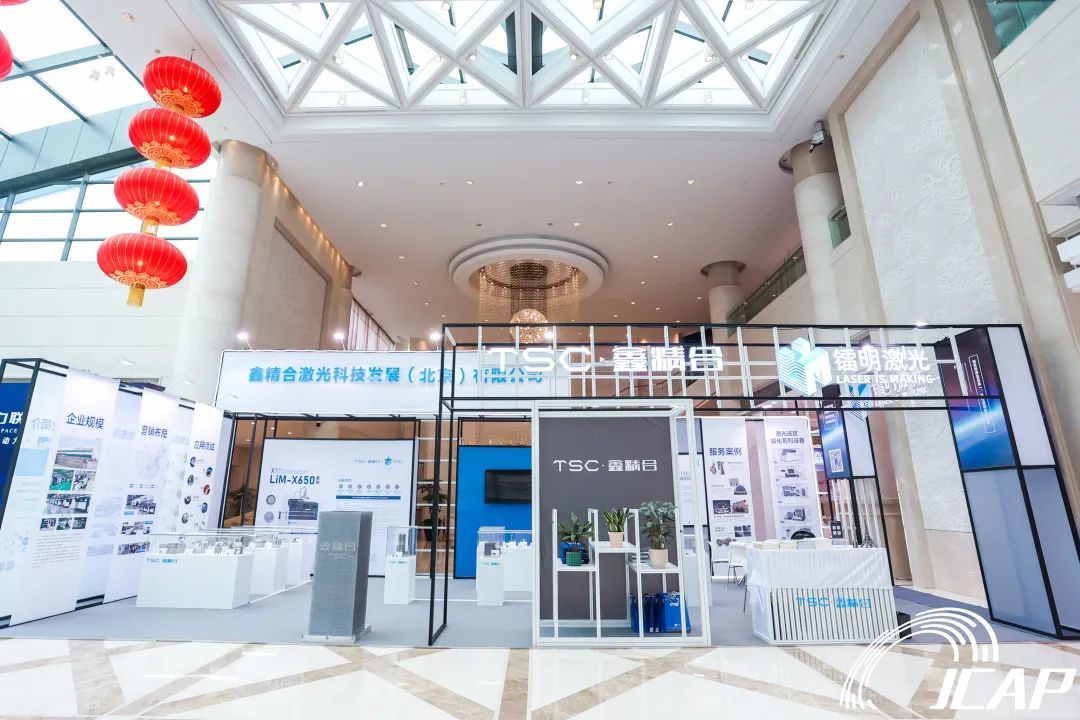 12/8-12/9 2022 (10th) China Aviation Propulsion Technology Forum
Invited to participate and make a report on the theme of "mass application in additive manufacturing.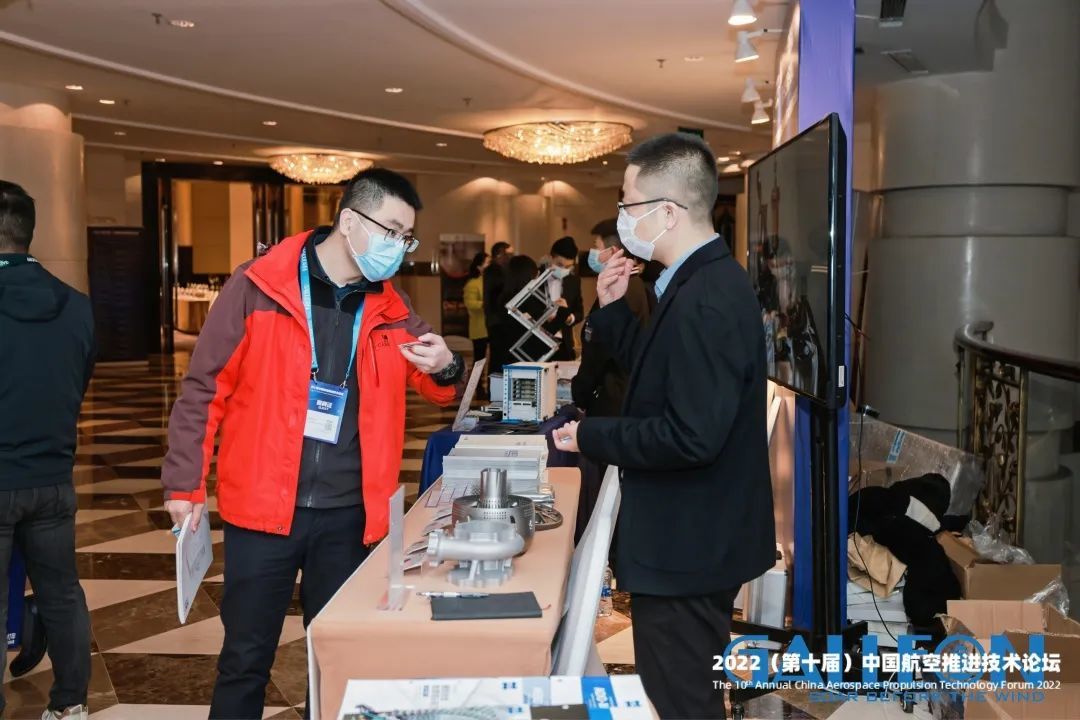 Focus on hot spots and add materials together.
In 2022, Radium Laser organized and participated in
7 live and media interviews
Together with industry partners
Common Attention to Hot Topics in Additive Manufacturing
Let more people hear the sound of the radium laser.
Application and Development of 4/20 Metal Additive Manufacturing Technology and Equipment in Aerospace Field
At the "Aerospace Manufacturing New Technology and Application Online Conference" held by MM "Modern Manufacturing", General Manager Dr. Guan Kai gave a keynote speech to interpret the path of mass production of parts with metal additive technology.
Application of 5/20 Li M-X650H equipment in aerospace field
The joint "TCT Asia Live" platform held an online live broadcast to discuss the scale and prospects of the additive manufacturing industry, the development trend of additive manufacturing technology, and introduced the advantages, characteristics and application of LiM-X650H equipment in the aerospace field.
LiM-X650H equipment
Preparation Technology and Application of Metal Powder Materials for 8/2 3D Printing
Fan Bin, general manager of China New Materials Research Institute (Zhengzhou) Co., Ltd., was invited to share the performance, preparation technology and application cases of metal 3D printing powder materials online.
In September, Dr. Guan Kai accepted an interview with MM's "insight" program.
General Manager Dr. Guan Kai accepted an interview with MM "Modern Manufacturing" Deputy Editor-in-Chief Li Zheng, talking about the hot topic of additive manufacturing.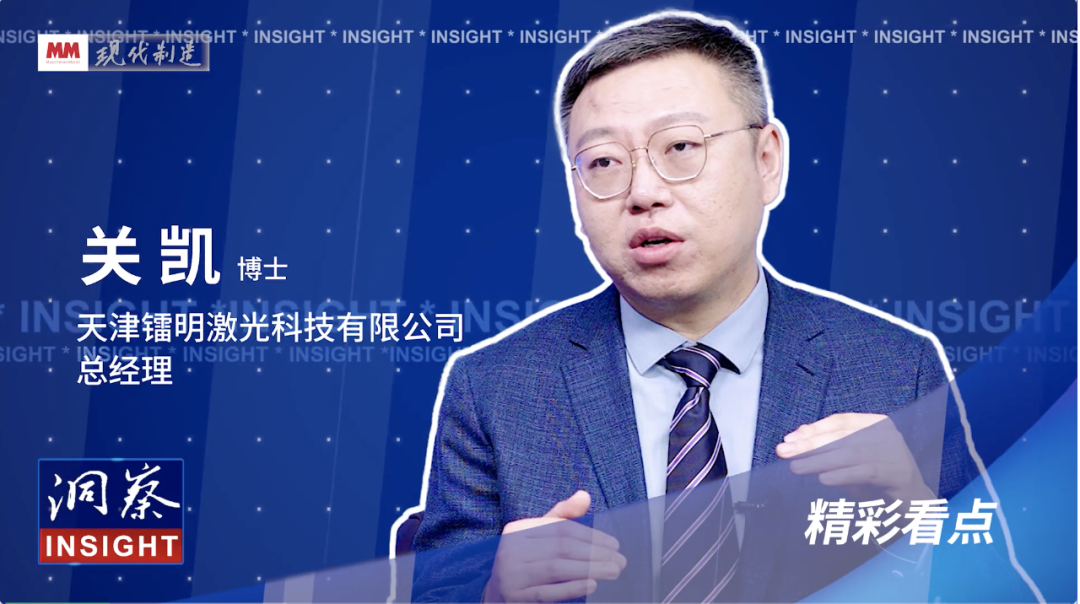 10/20 Additive Manufacturing Development and Professional Education
Focus on the relationship between the development of the additive manufacturing industry and professional education, and discuss metal 3D printing solutions for the education industry based on the cooperation cases between the company and various universities.
10/27 Recruitment Order for Channel Businessmen
In the face of the broad market prospects of the additive manufacturing industry, launch a channel recruitment order. According to the hot information such as enterprise advantages, equipment characteristics and application cases, channel investment promotion policy, etc., the live broadcast was shared, and we look forward to working with channel providers to promote the development of metal 3D printing.
November "China Machinery" magazine special report
As China's leading overall solution provider for metal additive manufacturing, it was featured by China Machinery magazine.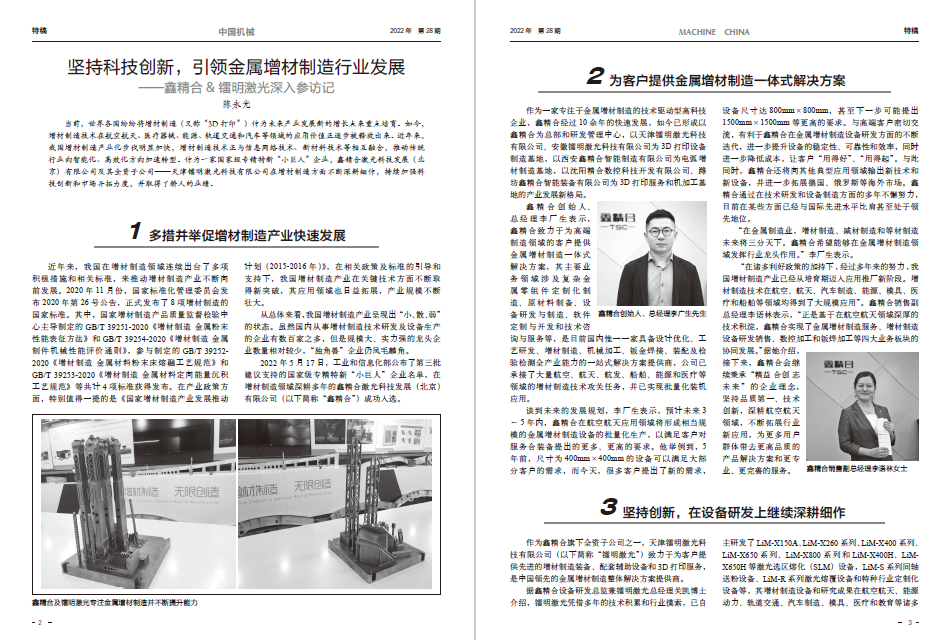 China Machinery Magazine
---
Wave and say goodbye to 2022
2023 come brand new
A new year
We go hand in hand
Meet new challenges and start a new journey.
Brave the wind and waves, go forward
Permalloy additive manufacturing process plan, radium laser soft magnetic alloy forming process details!
Permalloy refers to an iron-nickel alloy with a nickel content in the range of 30% to 90%. This kind of soft magnetic alloy can effectively control the magnetic properties through appropriate process. It is a typical functional material with high permeability, low coercivity, high saturation magnetic induction, high Curie temperature, good corrosion resistance and good processing performance. Mainly used in alternating magnetic field, widely used in aerospace industry and telecommunications, measurement and control system. Commonly used permalloy 1J50, 1J79, 1J85 and so on. In the field of aerospace industry, permalloy is mainly used to manufacture precision components with high sensitivity, fine size, small size and low high frequency loss.
2023-08-15
---
Gather in Chang 'an, Talk about Additive Material | Radium Laser Appears at 6th IAME Conference
The 6th China (Xi 'an) International 3D Printing Conference and Qin Chuangyuan 3D Printing High-end Forum opened today. Radium Laser was unveiled with LiM-X150A equipment and typical metal 3D printing displays, sharing technological achievements and application cases, discussing the future development direction of additive manufacturing, and going to the digital future together.
2023-08-08
---