Radium laser LiM-X650H on the list! 2021 Domestic Heavyweight Metal 3D Printer List Released
In 2021, the application of China's metal 3D printing market has achieved rapid development. According to factors such as technical difficulty, innovation and industry influence, Antarctic Bear 3D Printing Network has selected the top ten heavyweight metal 3D printers in 2021, and Tianjin Radium Laser 1.5-meter-high metal 3D printer LiM-X650H is impressively listed.
Tianjin Radium LiM-X650H was successfully developed in June 2021. The printable part size is 650 mmx650mmx1500mm, which is one of the highest levels in the world, especially the printing depth, which is one of the commercially marketable metal additive manufacturing equipment. The equipment is equipped with a complete closed-loop powder automatic conveying system. The whole process of part printing does not require manual intervention in the powder loading and unloading and screening process. It is equipped with a part powder cleaning and recycling module, which is efficient, practical and safe.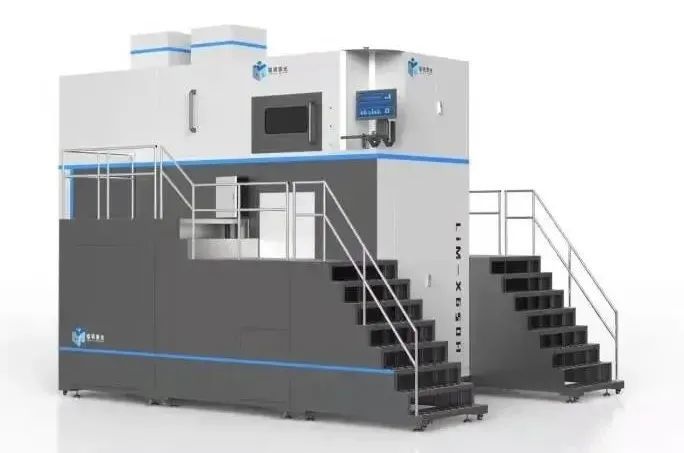 Multi-laser, large-format, high-size, customizable selective laser melting equipment LiM-X650H
The LiM-X650H equipment of radium laser is equipped with 4 1000W lasers, up to 8 lasers. With the optimized process parameters, the molding efficiency is greatly improved. The optical system adopts high-quality digital scanning galvanometer and f-theta mirror, with high scanning accuracy and stable operation. The sintered plate filter system is adopted, the filter element has long service life, the printing process is not interrupted, the downtime caused by replacing the filter element or cleaning the filter element is avoided, and the safety is improved; in addition, the unique powder drop powder spreading system provides high-quality powder layers for the printing process, the switchable powder conveying system provides basic functions for convenient production, the interesting screening mechanism provides reliable guarantee for the ultra-long printing process, and the conveying efficiency of 10L/min provides sufficient raw materials for high-speed printing.
LiM-X650H series equipment can be widely used in aviation, aerospace, automobile manufacturing and other fields. There are mature printing parameter packages for titanium alloy, high temperature alloy, aluminum alloy and other materials. The equipment has excellent performance in forming efficiency, printing quality, use cost and other aspects. It has successfully printed 1400mm parts for an aerospace customer and has been recognized by customers.
Permalloy additive manufacturing process plan, radium laser soft magnetic alloy forming process details!
Permalloy refers to an iron-nickel alloy with a nickel content in the range of 30% to 90%. This kind of soft magnetic alloy can effectively control the magnetic properties through appropriate process. It is a typical functional material with high permeability, low coercivity, high saturation magnetic induction, high Curie temperature, good corrosion resistance and good processing performance. Mainly used in alternating magnetic field, widely used in aerospace industry and telecommunications, measurement and control system. Commonly used permalloy 1J50, 1J79, 1J85 and so on. In the field of aerospace industry, permalloy is mainly used to manufacture precision components with high sensitivity, fine size, small size and low high frequency loss.
2023-08-15
---
Gather in Chang 'an, Talk about Additive Material | Radium Laser Appears at 6th IAME Conference
The 6th China (Xi 'an) International 3D Printing Conference and Qin Chuangyuan 3D Printing High-end Forum opened today. Radium Laser was unveiled with LiM-X150A equipment and typical metal 3D printing displays, sharing technological achievements and application cases, discussing the future development direction of additive manufacturing, and going to the digital future together.
2023-08-08
---