"Great deeds, shock release"-Li M-X800 new product media meeting held smoothly
On August 19, the LiM-X800 media meeting with the theme of "great success · shock release" was successfully held in Xin Jinghe and its wholly-owned subsidiary Tianjin Radium laser. It attracted reports from many industry associations and professional media, including China Mould Industry Association, China Additive Manufacturing Industry Alliance, Zhicheng Enterprise Research Institute, Aviation Manufacturing Technology, China Machinery, MM Modern Metal Processing, AI Automobile Manufacturing, Metal Processing, Automobile Technologists, Antarctic Bear, Industrial Intelligence Broadcasting, Jung Additive Manufacturing, etc.
In the morning, Ms. Li Yulin, deputy general manager of Xin Jinghe sales, led the leaders of the association and media reporters to visit the laboratory and exhibition hall of Xin Jinghe Beijing Technology Research and Development Center and gave a detailed explanation. Xinjinghe Laser Technology Development (Beijing) Co., Ltd. is a national high-tech enterprise relying on intelligent 3D intelligent manufacturing, facing high-end manufacturing fields such as aerospace and marine nuclear power, specializing in customized product manufacturing of complex metal components, product design and optimization, and software customization development. Its wholly-owned subsidiary Tianjin Radium Laser Technology Co., Ltd. is one of the leading metal 3D printing equipment manufacturers in China, its achievements have been widely used in aerospace, mold, automobile manufacturing, medical, education and many other fields.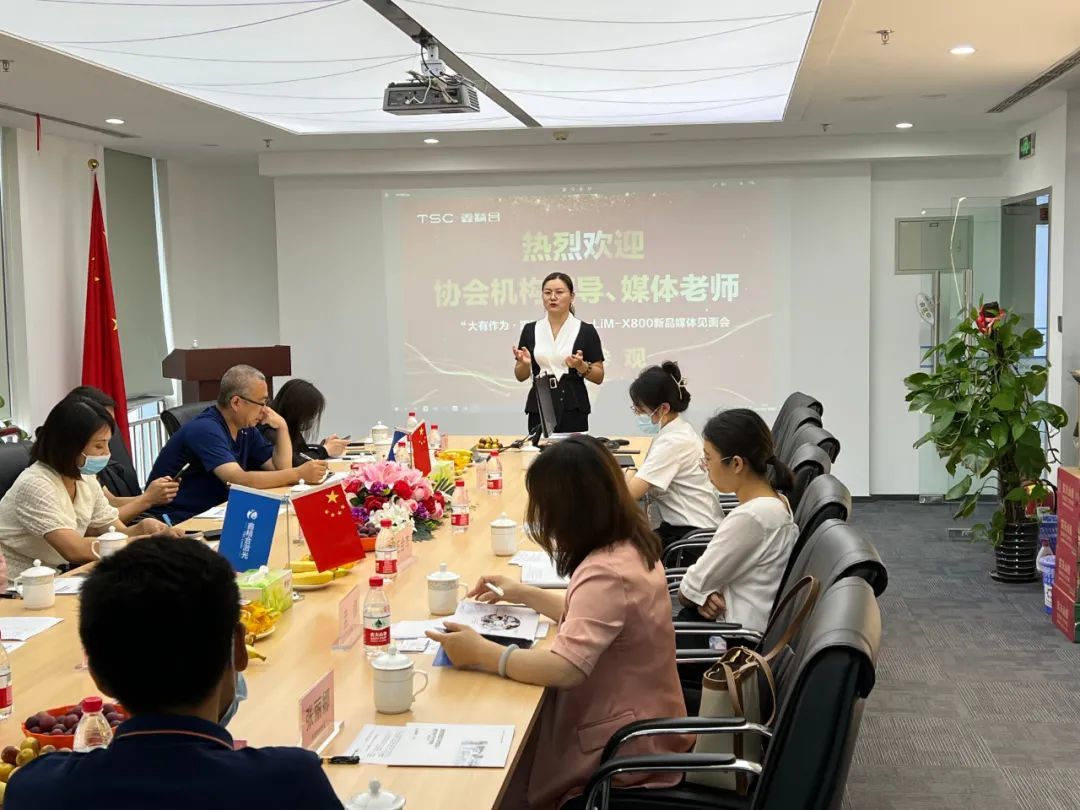 In the afternoon, LiM-X800 new product media meeting was successfully held in radium laser. General Manager of Radium Laser, Dr. Guan Kai, made an introduction to the LiM-X800 series of equipment and led the media to the workshop to watch the equipment on the spot. The forming size of the LiM-X800 equipment can reach 800 mmx800mmx1080mm (including the base plate). The height of the equipment can be reduced through the side double drive. The occupied area can be reduced by designing the powder discharging and taking parts of the forming cylinder instead of the taking parts compartment. Its main function highlights include: Ten laser multi-mode/new powder removal method/powder full-automatic high-efficiency circulation/large format and small footprint, etc.
LiM-X800The equipment will be unveiled at TCT Asia from August 31 to September 2.
At the media meeting, Dr. Guan Kai gave a concentrated answer to reporters' questions on issues of concern to the media and industry insiders:
Q (Media): Powder spreading equipment on the market is often named after the size of the longest axis, but radium lasers are all named after the size of the width. How do you think about this?
A (Dr. Guan Kai): Our naming method is based on meeting the basic needs of the market, not for the purpose of product promotion. The actual printing width of the equipment named after the meter level in the market may be only a few hundred millimeters. At present, the Z-axis meter level equipment is more in line with the market demand. The next generation product in our plan will also be a device with a printing depth of more than one meter, but the new device will also face some new problems. Even if some devices on the market achieve a printing depth of more than one meter, the laser arrangement method cannot take into account the quality and efficiency. Therefore, the device above the meter level we want to launch must have been developed and verified by us, in line with the direction of equipment development and to meet market demand.
Q (Media):About after-sales service,Because 3D printing is an emerging industry after all,After providing customers with basic after-sales training, customers will inevitably face a series of operational problems during use. How does Radium Ming solve this problem?
A (Dr. Guan Kai): This is a complete set of solutions from powder selection, processing, preservation and all printing and post-processing processes. Our after-sales service can serve the whole process of customers from metal materials to printed parts, control every work link of customers, establish customer files from equipment delivery, and provide guidance service at any time for 7 × 24 hours. For some special customers, such as the problem that the customer's factory is not open to the public, we will also invite customers to visit our factory to study, as well as the online after-sales service carried out during the outbreak, will make the whole after-sales method more flexible and diverse to meet the final needs of customers.
Q (Media): Compared to traditional machine tools,When we get the customer's product design requirements, do we have to redesign when using 3D printing?
A (Dr. Guan Kai): Yes, metal 3D printing is not like traditional machine tool processing. After drawing design, it can be directly converted into machine language for manufacturing. There are two main reasons why 3D printing should be redesigned: the first is that most traditional parts are not suitable for direct 3D printing, because 3D printing has its unique technological characteristics. Second, even if the technological characteristics of 3D printing are met, we still need to carry out secondary design, because 3D printing needs to be processed layer by layer, and there must be some auxiliary structures to support it, then this auxiliary structure needs to be designed by professional designers, and the support added by the secondary design will be removed in the process of post-processing, which will not affect the overall structure of the parts.
Q (Media): Radium laser isWhat are the main applications of the LiM-X800 equipment to be introduced?
A (Dr. Guan Kai): The main application field of large-size equipment is aerospace, and commercial aerospace will also be used, because from the current market point of view, it is mainly aerospace that has a high demand for large-size equipment. For the LiM-X800 equipment we are about to launch, customers are already docking with us, and they still have great demand in this regard.
During this period, Dr. Guan Kai also led the leaders of the association and media reporters to visit the exhibition hall and printing service workshop of Radium Laser, explaining the specific printing process and the technical achievements of Radium Laser.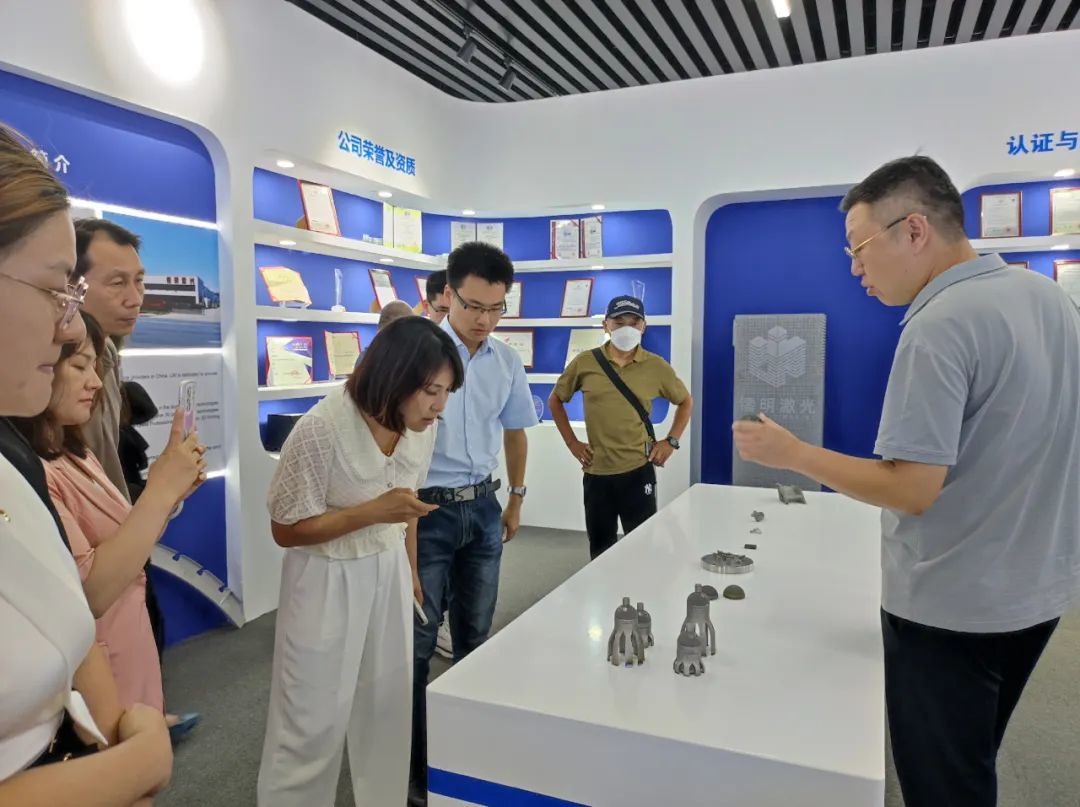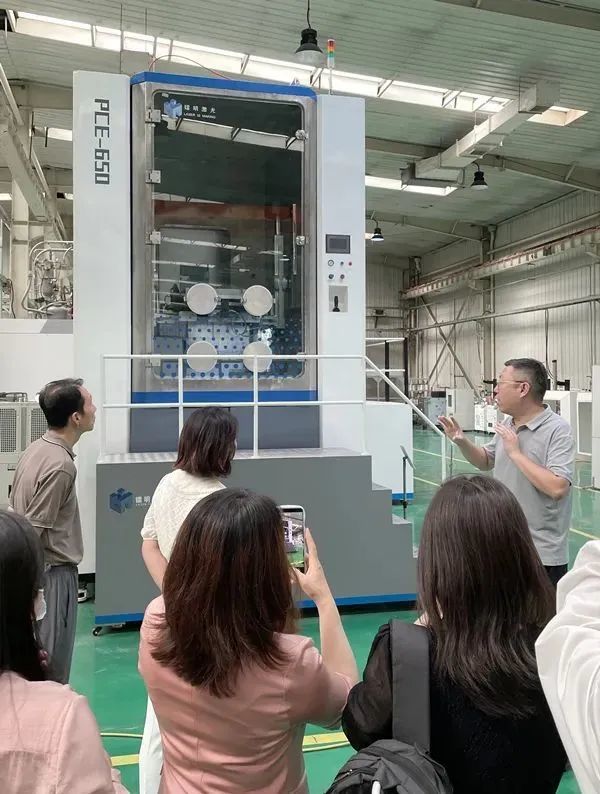 The metal 3D printing market is currently showing an explosive growth trend, especially in the aerospace field, the demand for 3D printing technology is becoming more and more urgent. In order to meet the market demand for metal 3D printing equipment, Radium Laser continues to deepen the research and development of large-format, high-depth and large-size equipment, combined with years of technological innovation and process exploration in the field of metal additive manufacturing, has accumulated unique processes and technologies, the LiM-X650H equipment was launched in 2021, and the printing depth can reach 1680mm (including 80mm substrate), which has become one of the highest levels of metal additive manufacturing equipment that can be commercially sold. LiM-X800 and LiM-X650H basically meet the current market. Most of the demand for metal 3D printed parts. In the future, Radium Laser will continue to develop its own research and development equipment in the direction of large size, multi-material, high precision and high efficiency, and continue to broaden the application scenarios of metal additive equipment in different industries, contributing to the national manufacturing industry.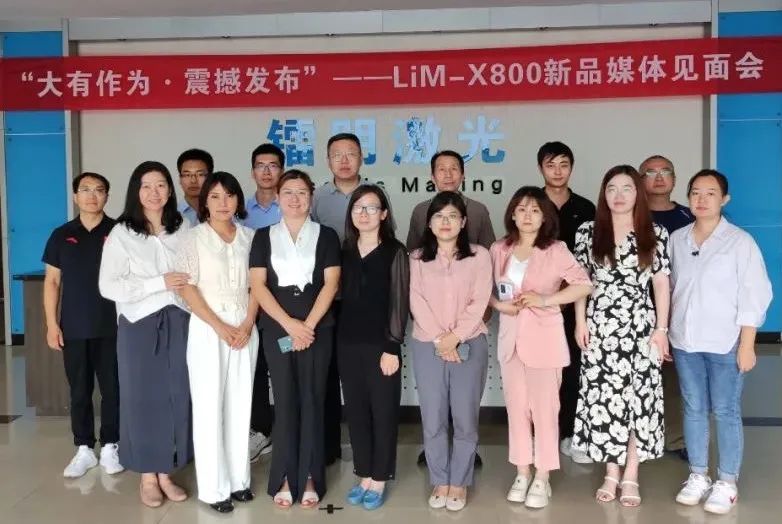 Permalloy additive manufacturing process plan, radium laser soft magnetic alloy forming process details!
Permalloy refers to an iron-nickel alloy with a nickel content in the range of 30% to 90%. This kind of soft magnetic alloy can effectively control the magnetic properties through appropriate process. It is a typical functional material with high permeability, low coercivity, high saturation magnetic induction, high Curie temperature, good corrosion resistance and good processing performance. Mainly used in alternating magnetic field, widely used in aerospace industry and telecommunications, measurement and control system. Commonly used permalloy 1J50, 1J79, 1J85 and so on. In the field of aerospace industry, permalloy is mainly used to manufacture precision components with high sensitivity, fine size, small size and low high frequency loss.
2023-08-15
---
Gather in Chang 'an, Talk about Additive Material | Radium Laser Appears at 6th IAME Conference
The 6th China (Xi 'an) International 3D Printing Conference and Qin Chuangyuan 3D Printing High-end Forum opened today. Radium Laser was unveiled with LiM-X150A equipment and typical metal 3D printing displays, sharing technological achievements and application cases, discussing the future development direction of additive manufacturing, and going to the digital future together.
2023-08-08
---