Digging Deep into Market Demand, Leading Intelligent Manufacturing with Innovation -- Radium Laser Participating in the 8th Advanced Manufacturing Technology Entering the Western Forum
On May 30th, MM "Modern Manufacturing" and Shaanxi Machine Tool Association jointly organized the "2023 (8th) Advanced Manufacturing Technology Entering the Western Forum". Experts, scholars, and corporate guests gathered to discuss the development of industrial mother machines from multiple angles. And the focus topics such as countermeasures, cutting-edge innovative technology and equipment needs of aero-engines, digital intelligent design and manufacturing, etc.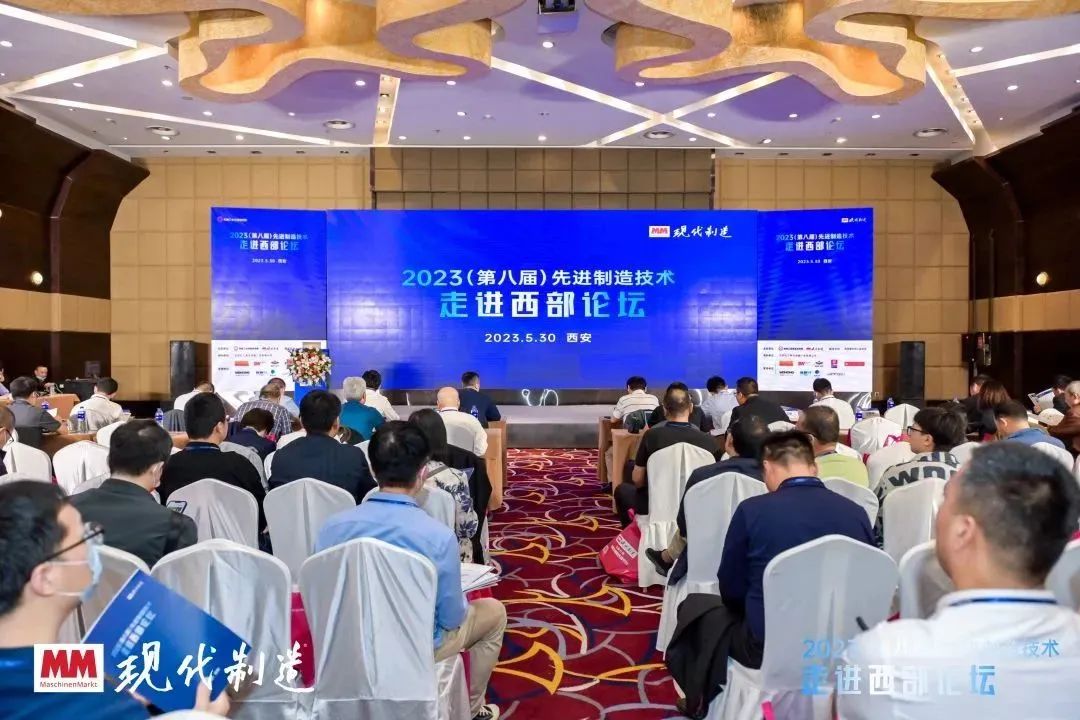 As an excellent overall solution provider for metal 3D printing in China, Radium Laser, a subsidiary of Xinjing, was invited to participate in this forum and received wide attention from professional audiences.

Invited lectures to share innovative results
During the forum, Zhou Lingfeng, deputy general manager of Xi 'an Xin Jinghe, delivered a speech on the theme of "Application of Metal Additive Manufacturing Technology in Manufacturing Industry". Facing the development needs of manufacturing industry in aerospace, energy power, rail transit and other fields, he shared the company's innovative achievements and new progress in the development of metal additive manufacturing equipment. Showing differentiated solutions under different needs has become the focus of attention on the forum.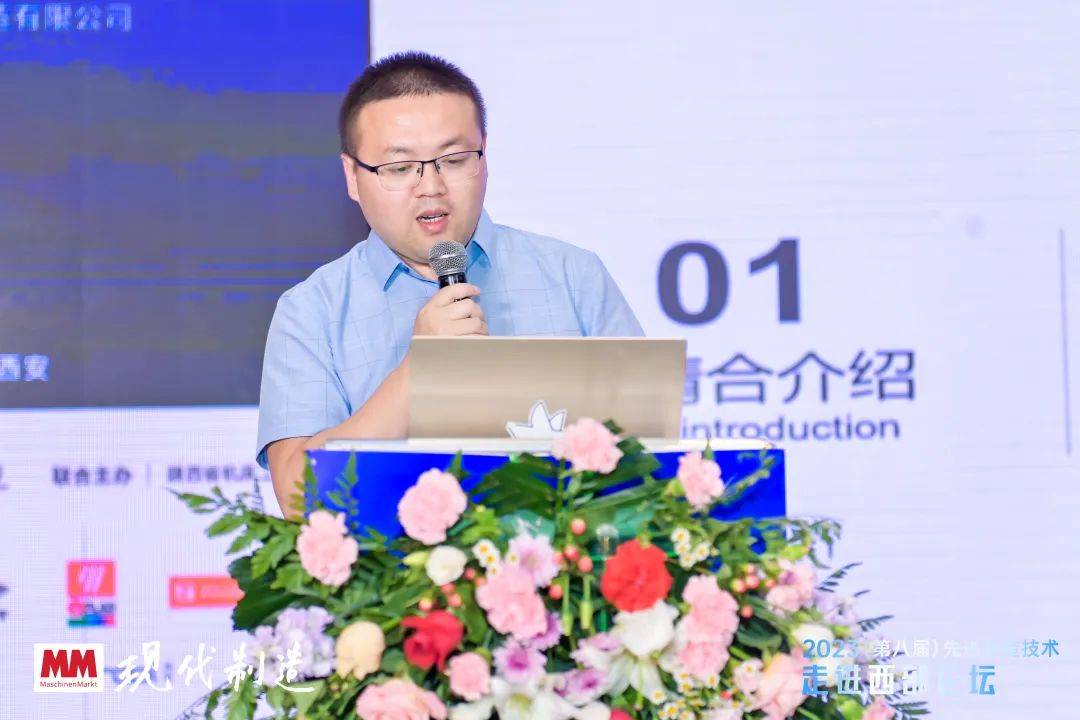 Zhou Lingfeng said that as a supplier of complete solutions for aerospace metal additive materials, Xin Jinghe has actively explored and applied a large number of equipment and processes for arc additive materials, including automatic control of arc additive materials, mechanical properties of formed parts, deformation control and path planning for complex structure formation. In the face of the manufacturing cost and reliability requirements of the new generation of aircraft, its structural parts are gradually developing in the direction of large-scale, integrated and intelligent, and high-efficiency arc additive manufacturing technology, as a branch of the current metal additive manufacturing process, will also attract the attention of the industry in the future and be more widely used.

Xi Anxin is mainly engaged in the application and research and development of laser melting deposition (LMD), laser cladding technology (LFR), arc welding additive manufacturing (WAAM), arc welding additive repair (WAAR) and other technologies. It aims to provide customers with a full set of arc welding additive forming solutions and products, laser cladding forming application solutions and products, repair of high-performance materials and special materials, metal surface treatment and other services.

Exhibition, empowering manufacturing development
The forum set up an exhibition area, and radium laser was unveiled with typical metal 3D printing parts such as engine manifold, cyclone, lily impeller, dot matrix structural parts, etc.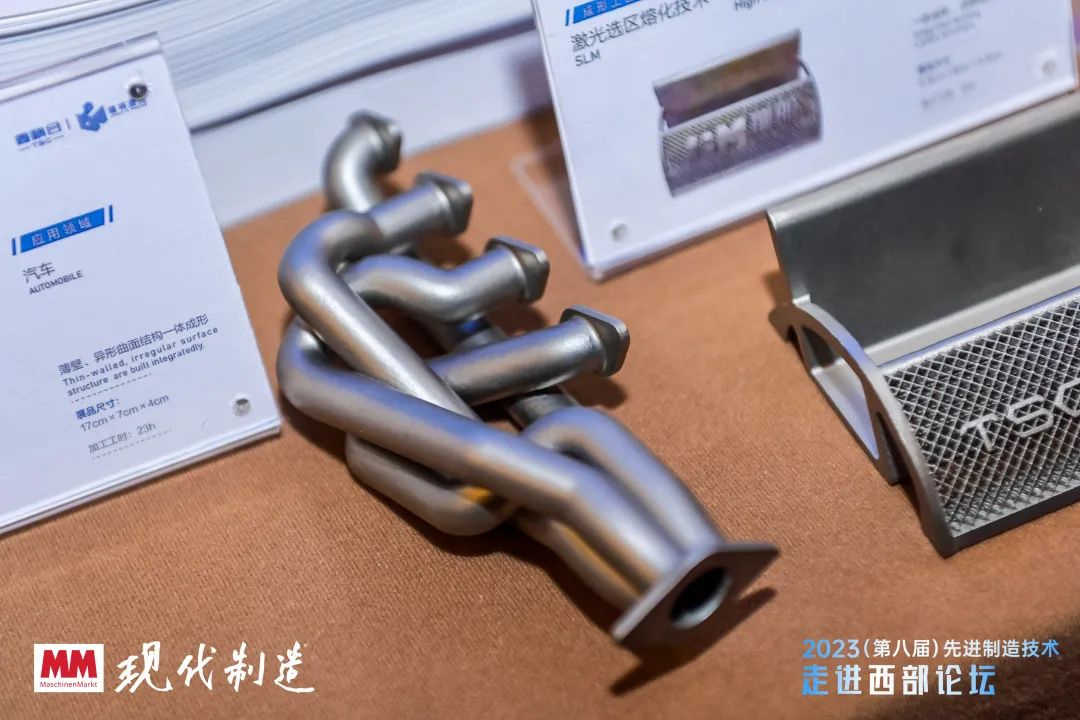 Engine manifold: thin-walled, special-shaped curved surface structure is integrally formed, the material is GH4169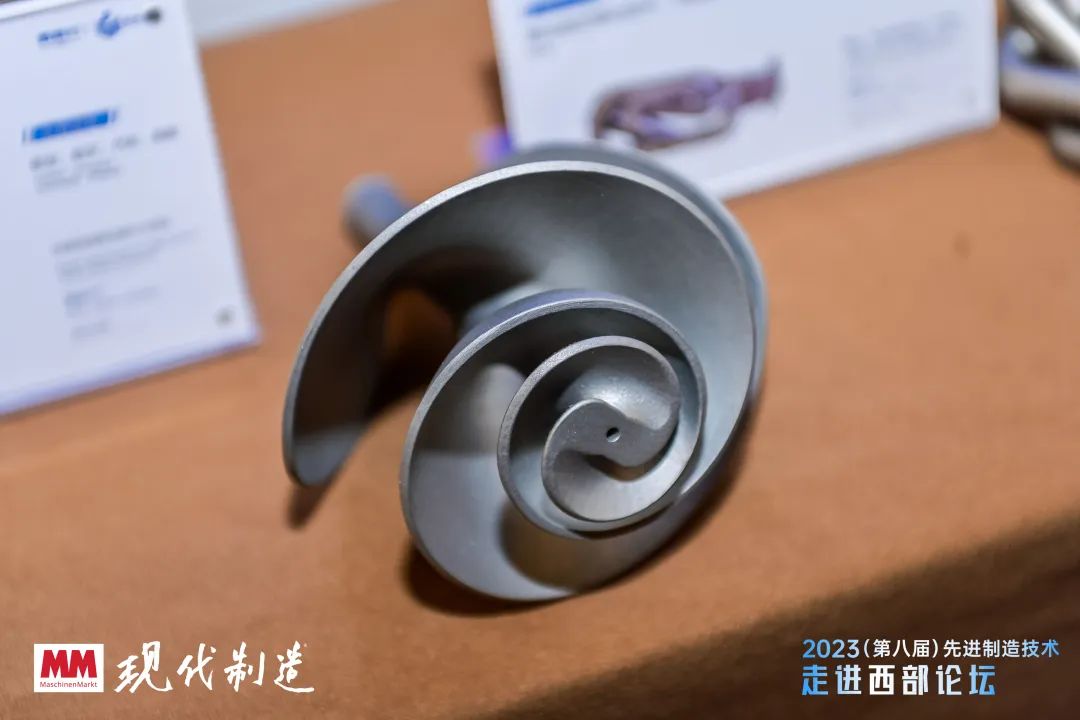 Lily impeller: aluminum alloy material, high-performance blade structure integrated forming, rapid manufacturing

Engine manifold: integrated manufacturing with arc additive technology; no weld connection, strong stability, good quality, low manufacturing cost

Communicate with the professional audience around the overall solution of additive manufacturing.

Work together to promote technological development
With the opportunity of this forum, Radium Laser has in-depth exchanges with industry experts and end users to discuss the development status and technology trends of the additive manufacturing industry and provide assistance for the high-quality development of the industry. Intelligent manufacturing is the key direction of the transformation and development of the manufacturing industry. We will continue to strengthen technical reserves, deepen technology research and development, bring differentiated solutions to different user groups, create greater value for users, and further promote the development of additive manufacturing technology.
Permalloy additive manufacturing process plan, radium laser soft magnetic alloy forming process details!
Permalloy refers to an iron-nickel alloy with a nickel content in the range of 30% to 90%. This kind of soft magnetic alloy can effectively control the magnetic properties through appropriate process. It is a typical functional material with high permeability, low coercivity, high saturation magnetic induction, high Curie temperature, good corrosion resistance and good processing performance. Mainly used in alternating magnetic field, widely used in aerospace industry and telecommunications, measurement and control system. Commonly used permalloy 1J50, 1J79, 1J85 and so on. In the field of aerospace industry, permalloy is mainly used to manufacture precision components with high sensitivity, fine size, small size and low high frequency loss.
2023-08-15
---
Gather in Chang 'an, Talk about Additive Material | Radium Laser Appears at 6th IAME Conference
The 6th China (Xi 'an) International 3D Printing Conference and Qin Chuangyuan 3D Printing High-end Forum opened today. Radium Laser was unveiled with LiM-X150A equipment and typical metal 3D printing displays, sharing technological achievements and application cases, discussing the future development direction of additive manufacturing, and going to the digital future together.
2023-08-08
---