November 3, 14:00 | Direct Strike Xin Jinghe & Radium Ming Laser LiM-X800 New Products Online Conference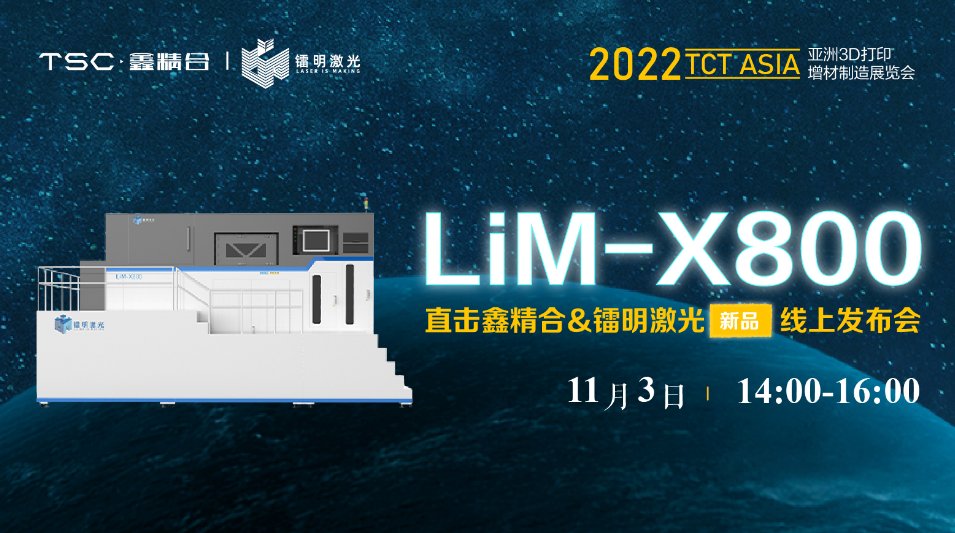 At present, the new generation of scientific and technological revolution and industrial transformation are accelerating the evolution. Under the background of accelerating the construction of a manufacturing power, metal additive manufacturing technology plays an important role in helping the transformation and upgrading of traditional manufacturing industry. Now,The demand for large-format, high-depth equipment in various fields has doubled.In response to market changes,Xin Jinghe-Radium Laser has launched large-scale metal additive manufacturing equipment and will hold an online conference on November 3.

Infinite imagination, infinite possibility
LiM-X800 Online Conference
November 3-November 5, 14:00-16:00
Scan the QR code in the poster above to watch the live broadcast.
Highlights look first:

4 linkage, big coffee gathering
The conference will take a four-way linkage live broadcast, heavy release of the new generation of radium laser flagship product-large-size metal 3D printing equipment LiM-X800.Li Guangsheng, General Manager of Beijing Xin Jinghe, Guan Kai, General Manager of Tianjin Radium Laser, Li Yulin, Vice President of Sales of Beijing Xin Jinghe, Lu Peng, General Manager of Weifang Xin Jinghe, and Zhang Junli, Director of Research and Development of Tianjin Radium Laser Machineryand customer representatives, media representativesIt will be broadcast live in Beijing, Shenzhen, Tianjin and Weifang.
The conference focused on the highlights of LiM-X800 equipment functions, equipment development history,Large additive manufacturing equipmentAdvantages and market prospects and other issues in-depth discussion. and wiredTCT Asia Exhibition Live Online Watch ExhibitionIt will also lead everyone.Visit Weifang Xin Jinghe Factory...... During the live broadcast, there will be lucky draws and occasional red packets of rain.
Highlights look first:

LiM-X800 equipment features
Ultra-large forming space · Ultra-small equipment size · Ultra-low cost control
Multi-laser · High efficiency
Forming space: 800mm x 800mm x 1080mm
Device size: 5.5m x 2m x 3.7m
Cost control: equipment reduction, hardware cost reduction
The height is reduced by side double drive, and the occupied area is reduced by designing the powder discharge part of the forming cylinder instead of the part-taking compartment.Standard six laser, reserved four sets of optical system interfaceAccording to the requirements, it can be quickly upgraded from six lasers to ten lasers, and the forming efficiency can reach 250cm ³/h; Multi-laser zoning and patented wind field technology can effectively ensure the forming quality.
More equipment highlights, welcome to lock Xin Jinghe-Radium Laser Studio on time, LiM-X800, add materials to manufacture large equipment, please look forward to it!
Additive Manufacturing Equipment
Permalloy additive manufacturing process plan, radium laser soft magnetic alloy forming process details!
Permalloy refers to an iron-nickel alloy with a nickel content in the range of 30% to 90%. This kind of soft magnetic alloy can effectively control the magnetic properties through appropriate process. It is a typical functional material with high permeability, low coercivity, high saturation magnetic induction, high Curie temperature, good corrosion resistance and good processing performance. Mainly used in alternating magnetic field, widely used in aerospace industry and telecommunications, measurement and control system. Commonly used permalloy 1J50, 1J79, 1J85 and so on. In the field of aerospace industry, permalloy is mainly used to manufacture precision components with high sensitivity, fine size, small size and low high frequency loss.
2023-08-15
---
Gather in Chang 'an, Talk about Additive Material | Radium Laser Appears at 6th IAME Conference
The 6th China (Xi 'an) International 3D Printing Conference and Qin Chuangyuan 3D Printing High-end Forum opened today. Radium Laser was unveiled with LiM-X150A equipment and typical metal 3D printing displays, sharing technological achievements and application cases, discussing the future development direction of additive manufacturing, and going to the digital future together.
2023-08-08
---