Radium laser on the list of the Ministry of industry and information technology 2022 key products, process "one-stop" application demonstration list
In order to accelerate the promotion and application of high-quality basic products and advanced technologies, and promote the formation of an industrial chain collaborative innovation pattern of mutual integration, symbiosis, division of labor and cooperation, the Ministry of Industry and Information Technology and the State-owned Assets Supervision and Administration Commission of the State Council jointly organized the 2022 key products and processes "one-stop" application demonstration work, and selected the 2022 key products, process "one-stop" application demonstration direction, promotion agencies and participating units list.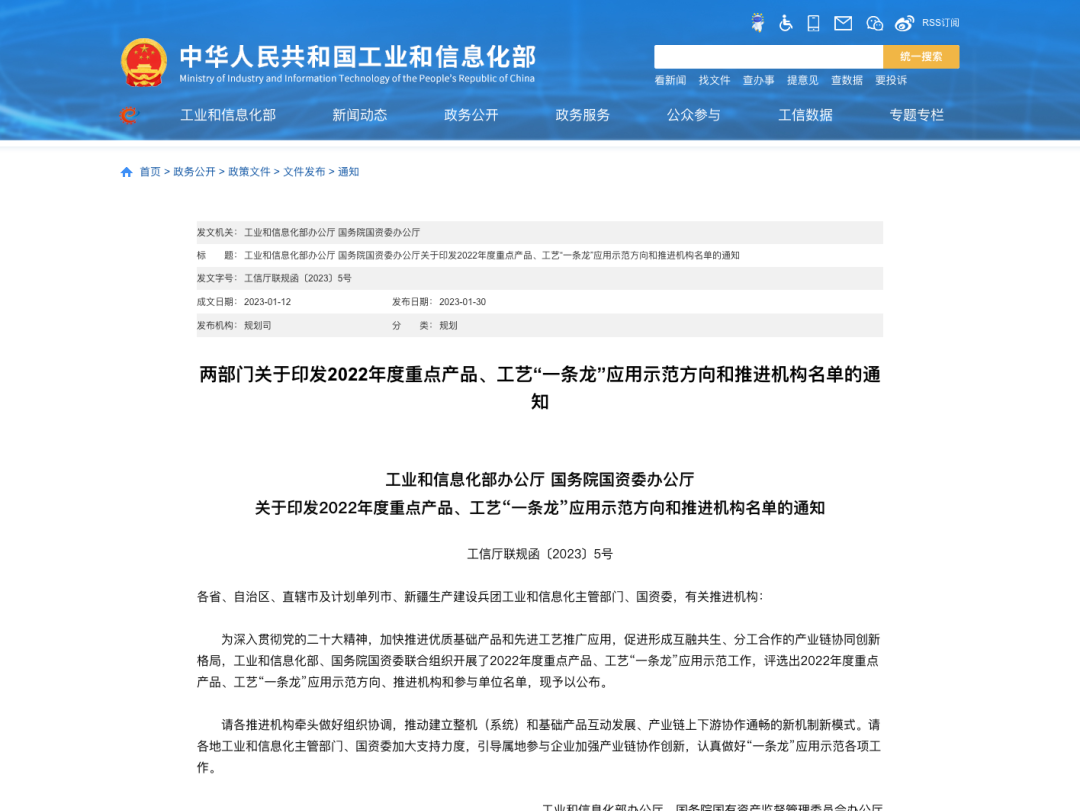 Radium laser as a "high-end additive manufacturing equipment with scanning galvanometer" application demonstration key direction of the participating units, the list.
As a leading provider of overall solutions for metal 3D printing in China, Radium Laser has an annual production capacity of 150 sets of various types of 3D printing equipment, and has more than 70 core technology patents. Over the years, it has focused on technological innovation and research and development, and has continuously overcome a number of technical problems. At present, the company's independent research and development of a series of equipment and related technologies have been widely used in aerospace, energy power, automobile manufacturing, mold, medical, education and other fields.
This selection is a review of the radium laser inMetal Additive ManufacturingFull affirmation of R & D innovation and industrialization capabilities in the field. In the future, the company will take this opportunity to closely focus on the development trend of the additive manufacturing industry, continue to upgrade industrial technology, increase core technology research, and work with upstream and downstream enterprises to strengthen industrial chain collaboration and innovation, and contribute to the high-quality development of my country's metal additive manufacturing industry.
Metal Additive Manufacturing
Permalloy additive manufacturing process plan, radium laser soft magnetic alloy forming process details!
Permalloy refers to an iron-nickel alloy with a nickel content in the range of 30% to 90%. This kind of soft magnetic alloy can effectively control the magnetic properties through appropriate process. It is a typical functional material with high permeability, low coercivity, high saturation magnetic induction, high Curie temperature, good corrosion resistance and good processing performance. Mainly used in alternating magnetic field, widely used in aerospace industry and telecommunications, measurement and control system. Commonly used permalloy 1J50, 1J79, 1J85 and so on. In the field of aerospace industry, permalloy is mainly used to manufacture precision components with high sensitivity, fine size, small size and low high frequency loss.
2023-08-15
---
Gather in Chang 'an, Talk about Additive Material | Radium Laser Appears at 6th IAME Conference
The 6th China (Xi 'an) International 3D Printing Conference and Qin Chuangyuan 3D Printing High-end Forum opened today. Radium Laser was unveiled with LiM-X150A equipment and typical metal 3D printing displays, sharing technological achievements and application cases, discussing the future development direction of additive manufacturing, and going to the digital future together.
2023-08-08
---